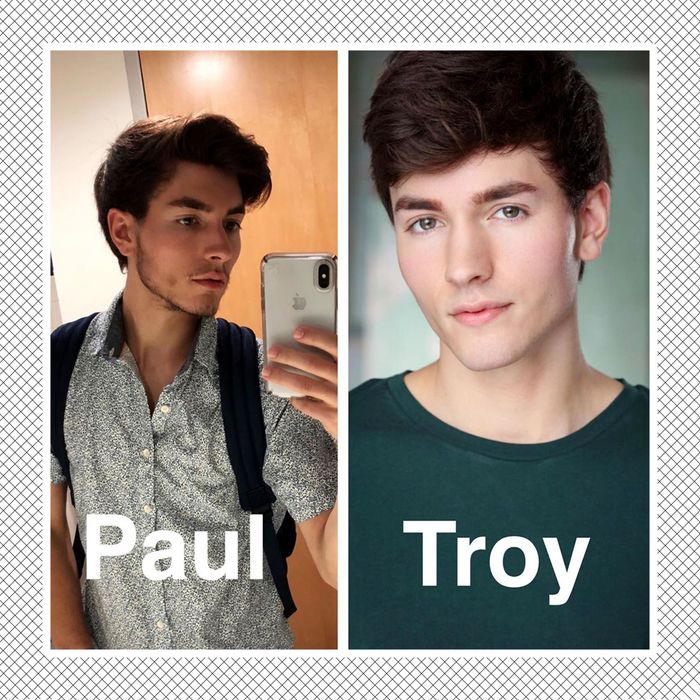 Photo: @paulzimmer/Instagram
Influencer drama, betrayals, and scandals are all just part of the thick, salty sea of content in which we swim these days, and yet this story of Paul Zimmer/Troy Becker has managed to stick in my brain, in part because it is so wildly, delightfully dumb. A report in the U.K.'s New Statesman breaks down what just might be the most bizarre Instagram/Youtube/TikTok saga yet — even in a world where stars sell their own bathwater and fake motorcycle accidents for subscribers — in which a man seems to have possibly tried to dupe his millions of followers by attempting to transfer them … to himself?
The tale begins with Paul Zimmer, a frosted-tipped, baby-faced influencer with an impressive audience of 7 million followers on the lip-synching app Musical.ly (which was eventually bought by TikTok). Zimmer, believed to be around 24 years old now, seems to have had a fairly innocuous if very corny brand on the app, doing things like making "thirst trap" videos of himself lip-syncing to R&B songs and flashing his abs with captions like "Happy Black History Month :)." But Zimmer was disgraced in 2017 after it was discovered that he had been soliciting "gifts" from his followers via Musical.ly's livestreaming app Live.ly. Zimmer had promised things like personal videos and DMs for cash "donations" without actually following through. After the scandal, Zimmer went dark, wiping his YouTube and Instagram accounts, where he had around 1 million followers, and remained silent for almost two years.
Here is where things start to get very strange: In October 2019, Zimmer suddenly returned with a post about an "actor" named Troy Becker, who looks, um, exactly like him. "This actor @TroyBeckerIG kid literally looks like a younger sexier version of me 😂 I don't even use social media anymore but had to post this hahah," Zimmer wrote. Becker's Instagram, tagged by Zimmer, showed an account with very few followers, with Becker saying only that he was "blessed to be filming my TV show." (The Troy Becker Instagram account was down when this post was published.)
Zimmer then followed up a few posts later to say that he was retiring from social media but would be "giving" his accounts (and their followers) to Becker. "[B]ecause he is one of the dopest people I know and he is literally my younger twin my much younger twin I believe Troy is 15 or 16 years old hahaha …" Zimmer wrote. Not only did it seem like Zimmer was trying (pretty poorly, it must be said) to rebrand from an influencer to an actor by pretending to be another person, but that person was very much (purportedly) a teenager. This announcement post, like the first one he made about Becker, also showed Zimmer with a beard, seemingly to make him look older.
Other YouTubers and fans were immediately skeptical of this benevolent move on the part of Zimmer to give a random teenage "actor" his millions of TikTok followers. Not only were Becker's posts laughably similar in cadence and emoji use to Zimmer's saccharine, robotic caption style (although Becker did post a photo of himself with a football and the caption "I love sports" to try to differentiate himself, it appears). Intrepid internet sleuths found photos of "Troy Becker" on the Instagram account of an L.A.-based acting school called the Heller Approach in June, four months before Zimmer reappeared, more evidence supporting the idea that Zimmer was indeed simply trying to legitimize himself for his new career with a hilariously shoddy grift. Becker's IMDb page lists no upcoming projects, but claims that "Troy Becker is an all American actor. He has been acting from a very young age and has received high praise for the charm and realism he brings to his characters."
There are now hundreds of comments on Troy Becker's TikToks saying things like "Paul it's really creepy you're pretending to be 16" and "CEO of pretending to be a different person." For his part, "Troy" is still posting TikToks during which he marvels at the fact that people think he and "Paul" look alike. Zimmer did not respond to the New Statesman's request for comment.
Why did this man think he needed to stop being a TikTok star to become an actor? Why didn't he simply change his name? Why did he want to become a teen? How did he think this would ever work? I have so many questions and yet to answer them might break the magic that is how simply fucking weird this story is. Paul, Troy, never change, either of you!