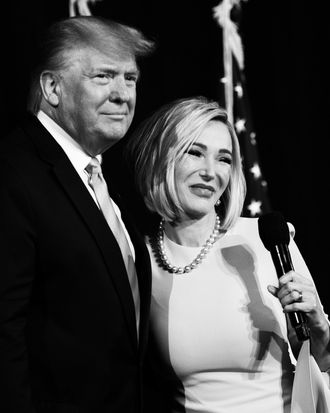 Trump with Paula White-Cain.
Photo: JIM WATSON/AFP via Getty Images
Paula White-Cain, a Florida televangelist and Donald Trump's official spiritual adviser, came under fire last week after video footage circulated showing her calling for "all satanic pregnancies to miscarry right now" in an impassioned sermon. Now, she's insisting that she was not actually calling for any women to suffer miscarriages.
White-Cain's words went viral after the website Right Wing Watch posted a video of her addressing a church crowd on Twitter. In the clip, she delivers an animated screed against witchcraft, spells, and the marine and animal kingdoms, among other threats. Shouting and gesticulating heatedly from behind a podium, she rails against "strange winds — any strange winds that have been sent to hurt the church, sent to hurt this nation, sent against the president, sent against myself, sent against others," and promises to "break it by the superior blood of Jesus right now."
That's when she also addressed the issue of "satanic pregnancies," elaborating that "we declare that anything that has been conceived in satanic wombs will miscarry, it will not be able to carry forth any plan of destruction, any plan of harm."
White-Cain's elevated presence in the White House has occurred in concert with other moves Trump has recently made to shore up his Evangelical based. She is considered a "uniquely Trumpian" addition to the White House: Like the president, she has been married three times (most recently to the keyboardist from Journey); she too has a large following based on her wealth, in spite of notable financial setbacks (her old church declared bankruptcy in 2014); and she has similarly survived several ethical and legal scandals. White-Cain also seems to share Trump's penchant for hypocrisy — as the video of her sermon made the rounds, people immediately noticed that it indeed sounded like she was advocating for something she claims to be very much against: terminating pregnancy.
White-Cain responded on Twitter, saying that the miscarriage comments had been taken out of context: "I was praying Eph 6:12 that we wrestle not against flesh and blood. Anything that has been conceived by demonic plans, for it to be cancelled and not prevail in your life …" she wrote. "That is — any plans to hurt people." Despite the fact that calling for "anything that has been conceived in satanic wombs to miscarry" is extremely clear, White-Cain dismissed the criticism of her as "a disingenuous attempt to use words out of context for political gain." "I will just keep praying!" she concluded.