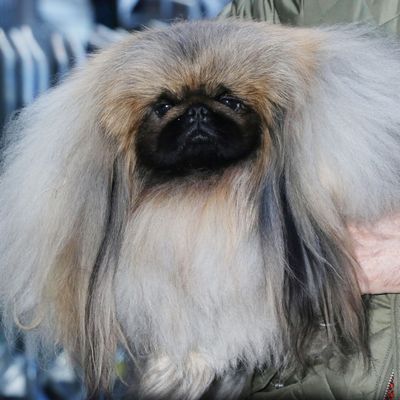 What kind of cat is this?
Photo: MediaPunch/Bauer-Griffin/GC Images
A Pekingese named Wasabi won Best in Show at the 2019 AKC National Championship, which aired on Animal Planet Wednesday, becoming the first member of the Toy Group ever to do so. Best in Show is, of course, the most coveted canine title around, and the single most important qualification in earning it is, I would say, being a dog. And, well, take a look at Wasabi: dog or a glamorously coiffed alien baby from some far-flung planet made entirely of hair? Hmmmm?
Don't get me wrong, Wasabi is very cute; I cannot look at his small potato face or his tiny waddling run without cackling in genuine glee. But because he is roughly the size of a large rabbit — albeit one with a luxuriant, Fabio-level coat — and because he lacks many of the features classically associated with dogs, I suspect this genial monster made up of wisps of hair may have pulled a fast one on the AKC.
The thing about dogs, you see, is that they typically have ears and legs and snouts of some kind. Wasabi does check that last box, even if his nasal structure has been smooshed into his general head area, giving him the squished countenance of a pug, or a Persian cat. He has no ears that I can discern, but crucially, appears to be all broom-colored mane — basically just an affable, autonomous lint ball rolling through the world on its own accord. If you squint, you can see his delicate paws paddling furiously under his floofy underbelly, allowing him to travel at "a speed best described as an animated shuffle" (the AKC's words, not mine). To me, he looks very much like a spirited wig zooming around on a Roomba — and it is, truly and somewhat unexpectedly, a goddamn delight to behold:
Even Wasabi's owner, breeder, and handler David Fitzpatrick registered surprise at the win, which took place in mid-December, despite being televised this week. "I had no expectations," Fitzpatrick told the AKC. "Wasabi is a young dog that won one Best in Show before this and has been shown very … sparingly." Still, this tiny, not-quite-two-year-old boy is "very charismatic," Fitzpatrick explained. Which, yes, you've seen him run.