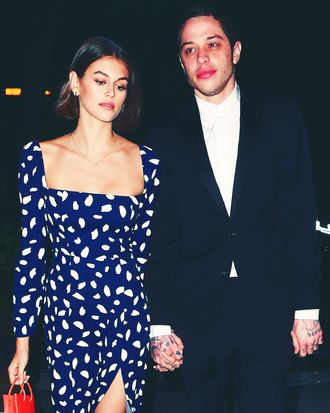 Photo: Robert O'Neil / SplashNews.com/Robert O'Neil / SplashNews.com
After reports that Kaia Gerber and Pete Davidson's relationship was "cooling off," it appears that the three-month fling has come to an end.
"Page Six" reports that the model and SNL comedian are calling it quits. A source spoke to the outlet, telling them: "It got very overwhelming for Kaia. Pete has a certain M.O. and he's very intense to his girlfriends. Kaia is only 18 and it's a lot to deal with."
The couple was first spotted together in October, when Davidson was seen leaving Gerber's apartment. They were then photographed together at Sadelles in Soho, getting lunch, shortly after which Gerber was seen wearing a "P" necklace. E! confirmed their relationship in November, noting that Kaia "loved Pete's personality. She thinks he is charming and is very intrigued."
The news of the split comes after Gerber's parents, Cindy Crawford and Rande Gerber, were recorded having a tense conversation outside of their daughter's apartment in December. At the time, there was speculation that the conversation was about Davidson, who was later seen exiting the apartment. A source told "Page Six," "they're just hoping this could all fizzle out."
Niether party has confirmed the breakup publicly, but Gerber was spotted in Miami with friends, sans Davidson. In the past year, following the break off of his engagement to Ariana Grande in 2018, Davidson has been linked to Kate Beckinsale and Margaret Qualley. RIP to the latest installment of his whirlwind love life.