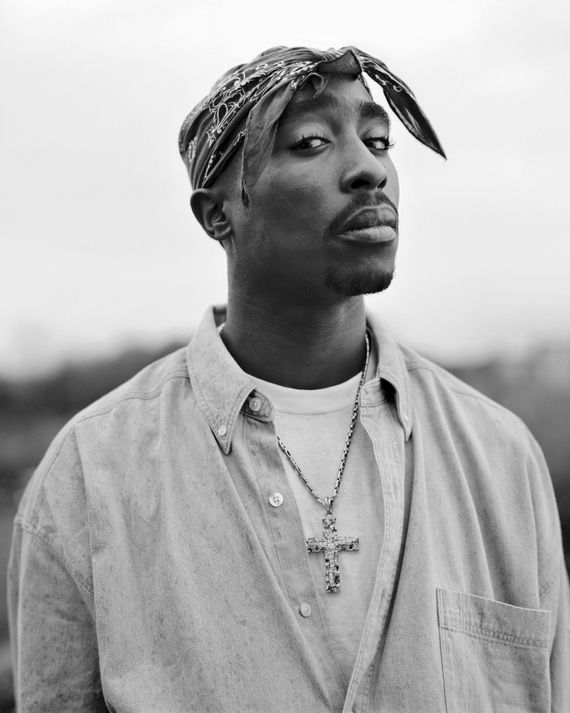 Tupac Shakur, 1993.
Photo: Dana Lixenberg
Celebrities have a way of seeming larger than life — sometimes it can be easy to forget that they're real people. Dutch photographer Dana Lixenberg displays her talent for bringing cultural icons down to Earth, though, in her new show at Grimm Gallery, "American Images."
Lixenberg's images reveal celebrities in a way that most people would never experience, letting audiences see them at their most raw and vulnerable.
"It's a pretty once-in-a-lifetime thing to have images that become iconic," Lixenberg says. And over the years, her work has done just that, particularly her well-known portraits of Tupac and the Notorious B.I.G. Tupac gazes straight into the lens, challenging the viewer. Biggie, counting cash in a splashy Coogi sweater and dark shades, captured and encapsulated a cultural moment, '90s hip-hop, at its peak.
Part of her talent for photographing beyond the facade is her unique style. Lixenberg uses a large-format field camera for her portraits. Unlike modern cameras that snap images in a matter of milliseconds, these cameras take pictures slowly, creating a crisp image of stillness. It's an exercise in patience, and that patience translates to the shot.
"Sometimes I learn more about subjects even after the shoot," Lixenberg explains. "In the moment, I'm so focused on the shoot … I really have to kind of get to the essence."
That essence she cites is there — in Jay-Z yawning, swaddled in a bright blue bathrobe, in Toni Morrison looking regal, sitting in front of a bright window. Below, a selection of photographs from the exhibition.
"American Images" is on display January 12–February 29 at 202 Bowery on the Lower East Side.