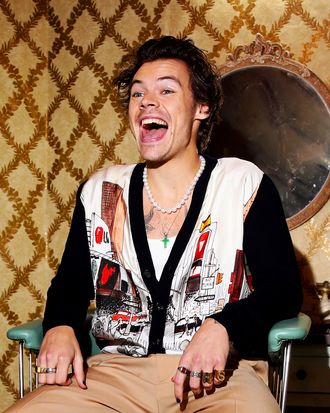 Harry Styles was SPOTTED with fellow British singer, Adele, in Anguilla.
Photo: Rich Fury/Getty Images for Spotify
You'll never guess what I just heard: Adele, renowned Spice Girls disciple and Titanic enthusiast, and Harry Styles, noted trouser daddy and fish-whisperer, may possibly have been spotted together on a Caribbean beach. Vacationing as a pair? Perhaps! Coincidentally colliding on the same sand stretch, for the purposes of a spontaneous seaside duet? Who's to say! Only these two crazy kids know for sure. Well, and possibly also James Corden, who (I'm told) was also there.
A series of photos circulating on Twitter places Adele and Harry in Anguilla at roughly the same time on Saturday. Most of the shots feature the "Hello" singer, wearing — and this is very important — a spotted dress and a jaunty little kerchief around her neck, sitting on the sand or splashing around in the water. But in the one pic of Styles, we see a swatch of familiar splotched fabric swishing out of the frame. Whose skirt is that, hmmmmm?
Fans believe this skirt belongs to none other than Adele, and furthermore, that her cheerful bandana thing belongs to none other than our favorite li'l scamp, Harry.
It's all very interesting, you'll agree, particularly because the two do not seem to have enjoyed much of a public friendship: In an interview with BBC Radio 1's Nick Grimshaw, Harry once described Adele as "the best," "the biggest," and basically "amazing" at everything — while also admitting he'd "only spoken with her a little bit." Still, as Refinery29 reports, Adele once gifted Harry a copy of her own album for his birthday, a commendable power move. So given all these disparate details, none of which fit together particularly well, what do you think Harry and Adele were doing on the beach?
Some have speculated that the duo might be dating on the beach, which sounds like a pretty fun place to do dating, if you ask me. Still, keep in mind, they've reportedly got the Carpool Karaoke MC in tow, possibly an indication of a platonic group getaway.
Others, meanwhile, have interpreted this collection of potential clues as a sign that the two pop stars may have some kind of collaboration in the works. I myself would happily accept either of these possibilities, or both of them. I just hope Adele got a little tackling in.