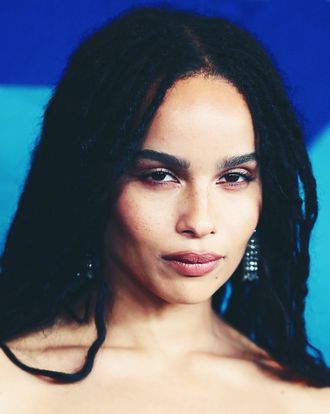 Zoë Kravitz
Photo: Monica Schipper/FilmMagic/Getty Images
Actress Zoë Kravitz shared the first photos from her summer wedding to actor Karl Glusman on Wednesday, debuting the dress she wore to the ceremony. The dress's most distinctive feature is the low-slung drop waist, a detail that evokes the low-rise-jean trend — one that has threatened to make a full-blown comeback in the past few years.
A 2000s style favored by the likes of Paris Hilton and Victoria Beckham, low-rise jeans have slowly been reemerging since 2018. The low-rise jean is, as the Cut's Sarah Spellings described it, "the masochistic trouser of choice" given that its "waist" runs along the hips rather than the actual waist, deliberately causing your butt to hang out.
Kravitz's dress doesn't offer that sort of exposure, although she's sported low-rise jeans before, and is one of the ten people on earth who look great in them. Instead, it simply encases her torso in tight white fabric. The dress itself is otherwise modest and simple, a custom, ballerina-style number designed by Alexander Wang. (Wang also designed Hailey Bieber's low-rise Met Gala look last year, which did include an exposed, jewel-encrusted thong.)
Kravitz wore her dress with a hair bow and low heels, a look that made her look like a sweet little cake topper. It was uncharacteristically girlish for the actress, whose style is usually punky. And it was a surprising foil to her rehearsal-dinner look: bike shorts and a bra beneath a fishnet dress.