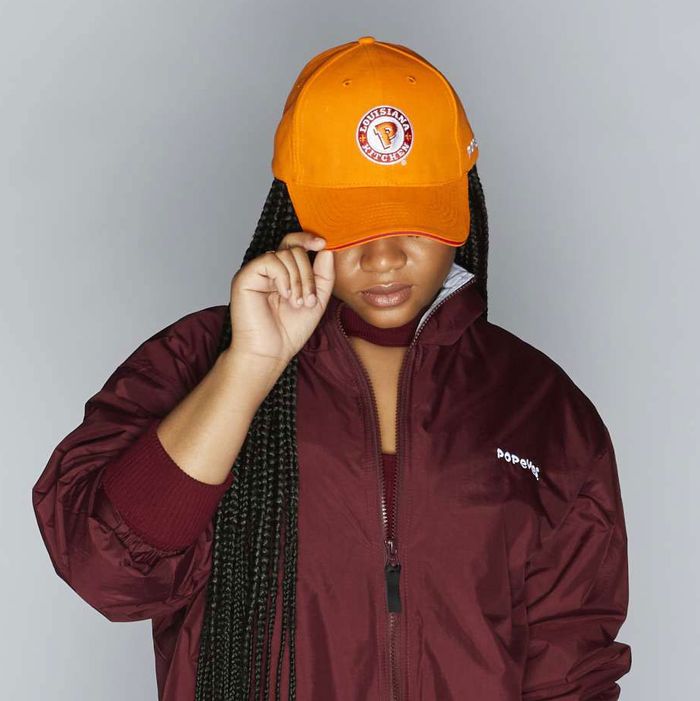 Popeyes's new fashion line.
Photo: Popeyes
When Beyoncé released a new collection for her fashion line, Ivy Park, earlier this month, many people pointed out that activewear's orange-and-burgundy color scheme bore a slight resemblance to the Popeyes logo. Well, it looks like the popular fried-chicken chain picked up on that comparison.
On Wednesday, Popeyes released a limited-edition clothing line of its own, That Look From Popeyes, which they're marketing as a chicer version of employees' signature work outfits. "Love that look? It's our uniform," the chicken chain tweeted alongside a photo of its employees modeling the merch. "Has been for a while. And now you can buy it." (Well, at least what's left of it — much of line, which includes khaki hats, polos, and crewnecks, has already sold out.)
As noted by Bossip, the promo photos of employees modeling the line are nearly indistinguishable from Ivy Park's. Also, on Twitter, many were quick to jokingly call out Popeyes for suggesting that Bey was inspired by the chicken joint.
A Popeyes spokesperson told CBS earlier today, "Popeyes is now offering fashion-seekers who missed the boat the first time a chance to score something nearly identical," which sure seems like a reference to Bey's line, which sold out earlier this month.
Only time will tell whether or not Bey approves of the new line. I mean, she is a huge fan of the fried-chicken joint: In 2003, she told Oprah that she has a lifetime Popeyes membership card that gives her free fried chicken for life. Nevertheless, I think I see a cease and desist in Popeyes' future.