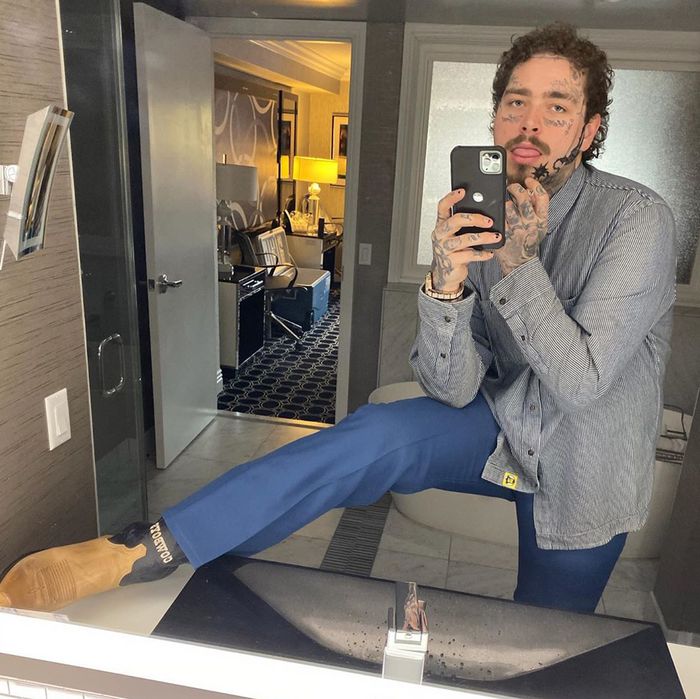 Photo: @postmalone/Instagram
Post Malone, whose face tattoos already include such delicate embellishments as barbed wire and the words "Always Tired" scrawled beneath his eyes, has fresh ink.
The singer debuted a new face tattoo just before his New Year's Eve performance in Times Square on Tuesday. The illustration — an armored hand holding a mace that resembles the one Sauron, from Lord of the Rings, uses in battle — was described as a "gauntlet" by Post's tattoo artist Kyle Hediger. It's inked along the left side of the singer's face, framing his jawline and cheek in a flattering way:
"It hurt like a motherfucker," Malone told TMZ on Tuesday. When asked to explain, Post described the illustration as "like a gauntlet and like a flail — it's like a big spiked ball on a chain," but didn't elucidate on any particular meaning. Post added that he'd been thinking of getting it for a while, joking that he has a "face for radio."
Post Malone has more than 50 tattoos on his body — including about 8 on his face — and told TMZ that he plans to add more in 2020. And while we're noted Posty fans here at the Cut, I am a bit concerned that he's running out of face — this latest one takes up a large portion on the lower left quartile, so there might not be room left for my name. Nevertheless, the singer seemed as carefree and joyous as ever during his final performance of 2019, gleefully slipping off of the stage during his set. New Year, same Posty, I guess!