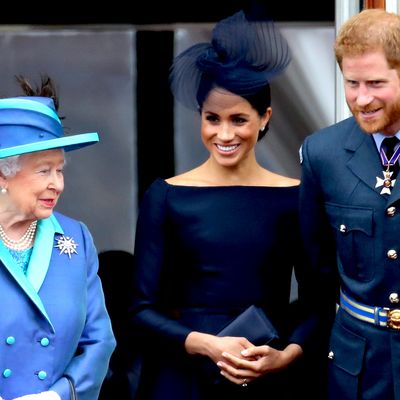 The Queen gave Prince Harry and Meghan Markle her blessing on Saturday, releasing them from official royal duties.
Photo: Chris Jackson/Getty Images
It's been a productive weekend for the Windsors, as you may have gleaned from the zillion headlines pinging around the internet today. Less than a week after she summoned the top family members to a "Sandringham Showdown" to hash out the particulars, Queen Elizabeth II delivered her verdict on Prince Harry and Meghan Markle's future on Saturday. The pair has been absolved of their royal duties and given the green light to live as relatively normal people — as soon as this spring. That's basically in line with the couple's stated desire to "step back as 'senior members' of the Royal Family" and to "carve out a progressive new role within [the] institution," as they explained it earlier this month. A big moment, to be sure, and also an unprecedented one. What does it all mean?
What are the terms of the agreement?
Buckingham Palace announced on Saturday that, going forward, Meghan and Harry will no longer use their HRH ("His or Her Royal Highness") titles, and will now go by Harry, Duke of Sussex, and Meghan, Duchess of Sussex. Their technical last name, should they choose to adopt it, would be Mountbatten-Windsor.
Because they will no longer represent the Queen and have given up their roles as working members of the royal family, they won't receive public funds, and will have to pay back the £2.4 million (roughly $3.1 million) in taxpayer money they spent renovating Frogmore Cottage. That will remain their U.K. residence, because the Queen gave it to them as a wedding gift: Effectively, they're now paying rent on the home.
Harry will also relinquish his military appointments, although the couple may "continue to maintain their private patronages and associations," per the Palace's statement. All of this starting "Spring 2020," although the arrangement will be reviewed after a year.
What did the agreement leave out?
Over the past few weeks, taxpayers — in the U.K. and in Canada, where Harry and Meghan might settle — have wondered who will foot the bill for the couple's security detail. In the statement, the Palace said it "does not comment on the details of security arrangements," because "there are well-established independent processes to determine the need for publicly funded security." So, TBD on that one, although some polls suggest that the majority of Canadians are none too jazzed about paying this particular fee.
How does the Queen feel about all this?
Seemingly pretty okay? I mean, no one knows what goes on inside her head, but in a statement, she gave Harry and Meghan her blessing, going so far as to say she was "pleased that together we have found a constructive and supportive way forward for [her] grandson and his family." She continued:
Harry, Meghan, and Archie will always be much loved members of my family. I recognize the challenges they have experienced as a result of intense scrutiny over the last two years and support their wish for a more independent life. I want to thank them for all their dedicated work across this country, the Commonwealth and beyond, and am particularly proud of how Meghan has so quickly become one of the family. It is my whole family's hope that today's agreement allows them to start building a happy and peaceful new life.
The Queen was business-as-usual on Sunday morning, greeting members of the public gathered outside her church in Norfolk. Also in attendance: The Queen's (purportedly) favorite son, Prince Andrew, whom she recently fired over his ties to alleged child sex-trafficker Jeffrey Epstein. Or, that's what inside sources say; Prince Andrew maintains he stepped down from his royal duties voluntarily, realizing that his association with Epstein proved "a major disruption to [his] family's work."
Anyway, the Queen was reportedly "all smiles" at church. Make of that what you will.
So how will the Sussexes repay all that money?
A good question! And one we cannot definitively answer at this time, although given their reported net worth of $45 million, it shouldn't be too hard. In any case, the pair did declare their intention to work when they announced their plans to step back. What, exactly, their working lives will look like remains unclear, although Ted Sarandos — chief content officer at Netflix — told the Guardian that the streaming service would definitely be interested in a collaboration, potentially something along the lines of its production deal with the Obamas. (Whose Netflix documentary, it bears noting, just earned an Oscar nomination.) "Who wouldn't be interested?," Sarandos said of a Sussex deal. "Yes, sure."
In giving up their HRH titles, however, the pair might also have to give up Sussex Royal, the brand they have built over the past few years and the name of their forthcoming charitable foundation. Their website, SussexRoyal.com, simply says: "In line with the statement by Her Majesty The Queen, information on the roles and work of The Duke and Duchess of Sussex will be updated on this website in due course."
As the Daily Beast points out, though, the Palace statement also notes that Harry and Meghan agreed that "everything they do will continue to uphold the values of Her Majesty." Such an agreement would likely rule out any tell-all interviews or books detailing the inner workings of royal life, which the family has reportedly worried would expose sexism, racism, and classist sentiments within their ranks.
In any case, most of the couple's professional pursuits appear philanthropic: Meghan, for example, recently signed a voiceover deal with Disney, the proceeds from which will go to Elephants Without Borders.
Speaking of Meghan, what's she up to?
Meghan flew back to Vancouver to be with Baby Archie — whom the couple left in the care of a nanny after the holidays — shortly after her and Harry's big announcement; she has since been sighted in her probable new home country, enjoying the freedom of the open road and being a good friend. Unfortunately, she still has those lawsuits against U.K. tabloids to deal with, plus her father, who — in addition to potentially testifying against his own daughter at trial — is still out there sharing disparaging opinions about the Sussexes.
"This is like one of the greatest long-living institutions ever," Thomas Markle Sr. reportedly says in a new documentary, Thomas Markle: My Story. "They are destroying it, they are cheapening it, they're making it shabby. They are turning it into a Walmart with a crown on it now. It is something that is ridiculous, they shouldn't be doing this." Which is a bit pot-kettle-black from a man who has made every apparent effort to leverage his estranged daughter's relationship into material gain, but okay!
And Harry, where is he?
Having spent the past few weeks hashing out an agreement with the rest of his family, Harry remains in the U.K., where he reportedly has appointments through this upcoming week. When Meghan flew back in early January, however, it was reported that Harry would like rejoin her "within a fortnight." So, it seems reasonable to expect he'll return to Canada fairly soon.