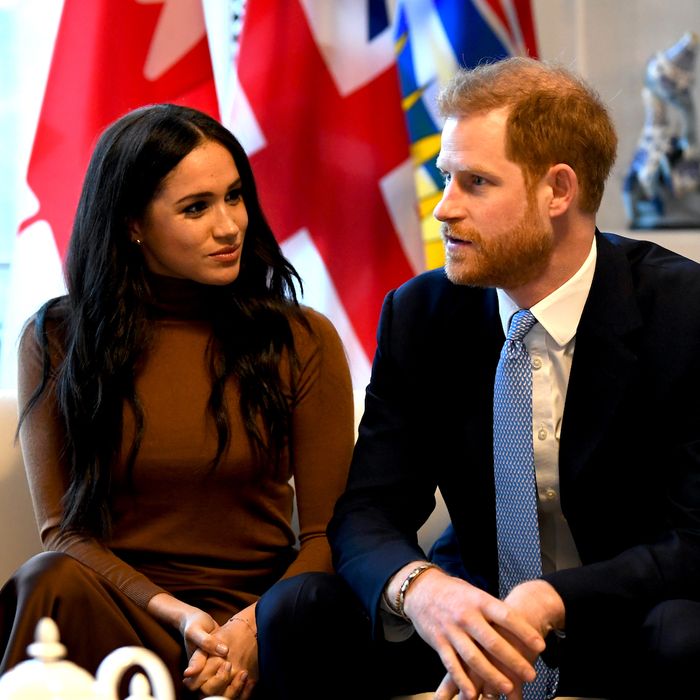 Meghan Markle and Prince Harry.
Photo: WPA Pool/Getty Images
Canadian transplants Prince Harry and Meghan Markle have reportedly threatened legal action against British media outlets that buy or publish unsanctioned photos of the couple.
According to NBC, the Duke and Duchess of Sussex issued a cease-and-desist letter through their attorneys on Tuesday, one day after Harry rejoined his wife and son on Vancouver Island. It appears to reference photos of Meghan hiking, with baby Archie strapped to her chest and her two dogs in tow. Allegedly snapped by a photographer hiding in a bush with a long lens, the images appeared on Monday in the Sun, a U.K. tabloid that Harry is suing separately, and various other outlets.
The letter reportedly argues that the photographers trailing the couple have crossed the line into "harassment," and that "there are serious safety concerns about how the paparazzi are driving and the risk to life they pose." Harry's mother, Princess Diana, died in a car crash in 1997, the result of a relentless paparazzi chase. The parallels appear to be top of mind for Harry, who referenced Diana in his recent remarks explaining his decision to "step back" from royal life, noting that "the media is a powerful force, and my hope is that one day, our collective support for each other can be more powerful. Because this is so much bigger than just us."
In September, Harry sued the Sun and the Daily Mirror for allegedly hacking his phone to intercept voicemail messages. Around that same time, he and Meghan filed a claim against Associated Newspapers, parent company of the Daily Mail and the Mail on Sunday, for "the misuse of private information, infringement of copyright, and breach of the Data Protection Act of 2018." The tabloids had published a private letter Meghan wrote to her estranged father, and in a statement explaining the latter lawsuit, Harry wrote: "My deepest fear is history repeating itself. I've seen what happens when someone I love is commoditized to the point that they are no longer treated or seen as a real person. I lost my mother and now I watch my wife falling victim to the same powerful forces."