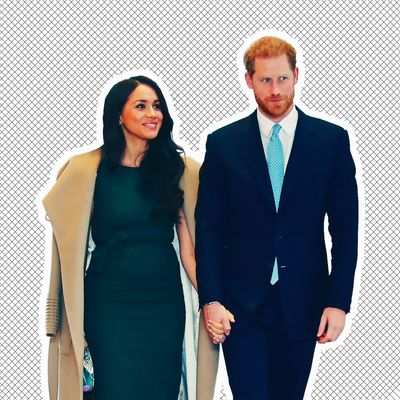 Photo: Tolga Akmen/AFP via Getty Image
Prince Harry and Meghan Markle announced today that they would be stepping back as "senior" members of the British royal family. Instead, the Duke and Duchess of Sussex wrote in a statement shared on Instagram that they will become financially independent and split their time between the U.K. and North America.
The news came as a shock to many — including, it seems, other members of the royal family and even the queen. In a terse statement, Queen Elizabeth's deputy communications secretary said, "Discussions with the Duke and Duchess of Sussex are at an early stage. We understand their desire to take a different approach, but these are complicated issues that will take time to work through."
So … yes, complicated! Let's break down what this all means.
First things first: Why is this such a big deal?
Harry and Meghan are two of the most popular members of the British royal family. According to an August poll from YouGov, Harry is the second-most-popular royal — right after the queen and edging out his older brother, Prince William. So at the base level, this is a major loss for the family in terms of favorability.
On top of that, the Sussexes' exit comes immediately after what many have dubbed Elizabeth's "second annus horribilis" — the royal family's worst year since 1992, when Prince Charles and Princess Diana announced their separation and a castle literally caught on fire. This past year, of course, was marked by rumors of marital strife between William and his wife, Catherine, the Duchess of Cambridge, and, far more notorious, by Prince Andrew's downfall over his friendship with the late pedophile Jeffrey Epstein. (In November, Andrew announced he would be stepping back from his royal duties.)
Additionally, it has been reported that Charles wants to trim the royal family down to its "core" members. But given the Sussexes' popularity, many royal watchers likely didn't expect them to step back.
Okay, so … what exactly did the Sussexes say about their decision?
Harry and Meghan started their statement, which was posted on the Sussex Royal account, by bracing us for the news. "After many months of reflection and internal discussions," they began, in the form of a classic breakup letter, and the statement continues:
Are they still royal, then?
Yes, the Sussexes are still technically members of the British royal family, but they are stepping back from their roles as "senior" members. So they'll still be considered "working royals," but they'll be financially independent.
What does it mean that they're "financially independent" now?
Thankfully for us all, the Sussexes addressed this very question on their website, SussexRoyal.com. The gist: They're "transitioning to a new working model," which means they will no longer receive money through the Sovereign Grant, "the annual funding mechanism of the monarchy," they explain.
Under that structure, they're not allowed to earn income. By stepping back and giving up access to the fund, the Sussexes will now be permitted financial independence. An important reminder: There's a ton of precedent for this. Princess Beatrice and Princess Eugenie have both held full-time jobs outside royal life; they are still able to do work in support of the monarchy while making their own way.
Why would Meghan and Harry want to step back?
Since her relationship with Harry was first announced in the fall of 2016, Meghan has consistently been subjected to racist and sexist attacks from the British tabloid press. Her paternal family members have also routinely harassed her through the tabloids and TMZ, and a heart-wrenching, personal letter to her father was published (in part) by the Mail on Sunday.
The harassment has been so bad that, back in November 2016, early in their relationship, Harry issued what Lainey Gossip aptly referred to as a "love shield": a statement decrying the "outright racism and sexism" Meghan was facing in the tabloids and on social media. Three years later, this past October, he issued another statement accusing the tabloids of waging a "ruthless campaign" that has "vilified her almost daily" by creating "lie after lie at her expense." The couple also filed a lawsuit against the Mail on Sunday over the publication of the letter to her father.
That same month, the couple opened up about the emotional toll the negative coverage has had on them in a documentary for ITV centering on their recent tour of southern Africa. Meghan thanked interviewer Tom Bradby for inquiring about how she was doing — "Not many people have asked if I'm okay," she remarked — and said of the tabloid attention, "I never thought that this would be easy, but I thought it would be fair, and that's the part that's really hard to reconcile."
There have been rumors and rumblings for a while that the Sussexes have been unhappy. Earlier today, those seemed to reach a fever pitch, with tabloids reporting that they were considering other options and might even be moving to Canada.
Still, to judge from a 2017 interview with the Mail on Sunday, recirculated on Wednesday, Harry may have considered a royal exit before. In 2007, he spent time in the army, during which — he told the outlet — "I wasn't a Prince, I was just Harry."
"Being in the Army was the best escape I've ever had. I felt as though I was really achieving something," he explained. "I have a deep understanding of all sorts of people from different backgrounds and felt I was part of a team." Returning to royal life, he continued, "I felt I wanted out but then decided to stay in and work out a role for myself." Because, he noted, "We don't want to be just a bunch of celebrities but instead use our role for good."
How will they deal with the media going forward?
The Sussexes also addressed that on their website. Starting this spring, they're going to be shifting their media model to "ensure diverse and open access." How will they do that? By engaging with grassroots media organizations and young journalists, giving access to "credible media outlets," and sharing information to the public through their official communication channels.
Another thing worth noting: They said they would no longer be participating in the "Royal Rota" system, which is akin to the White House press corps in the U.S. The Royal Rota system includes tabloids like The Sun and The Daily Express.
So what happens next?
In terms of work, the Sussexes have made it clear that they're still going to support the charities and patronages they've been working with. But we can only imagine that, as two people working to be "financially independent," they'll be taking on some other jobs as well. That's all TBD.
And are Meghan and Harry really moving to Canada?
It's unclear at this point, but it would make sense: Meghan lived there for years while filming Suits, and the couple just returned from a holiday in the country. But Meghan's mother lives in California — and her press team is based there — so there's always a chance that North America could mean the U.S., too.
This article has been updated.