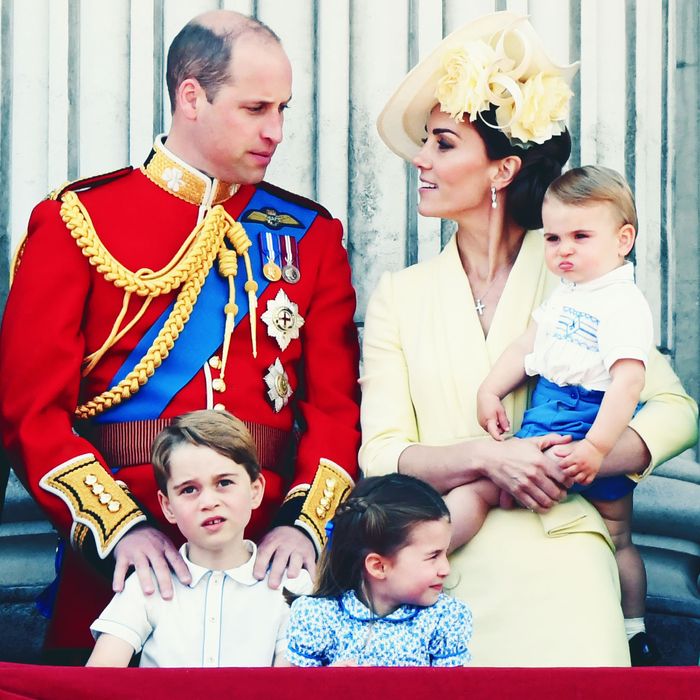 Prince William, Kate Middleton, and their three children.
Photo: Anwar Hussein/WireImage/Getty Images
It is kind of exciting when someone has a baby, isn't it? You get to speculate about what the baby will look like, what their name will be, whether they'll grow up to be a doctor, or a reality-TV star, or one of those people who puts "CEO of None of Your Business" on their dating profile. It's even more exciting when the baby is a member of the British royal family, because chances are you don't know the British royal family personally, so it won't be awkward if you don't get them a present. And if you do know them personally, well … I guess check their registry?
If you were getting yourself preemptively hyped up for the next baby Prince William and Kate Middleton might have, though, I have some news: Prince William apparently doesn't want any more kids.
During an event at Khidmat Centre in Bradford, Yorkshire, on Wednesday, Kate Middleton told one fan that it's unlikely she'll have a fourth child. "I don't think William wants any more," she said, according to People.
Currently, the couple have three children: Prince George, 6, Princess Charlotte, 4, and the elusive Prince Louis, 1.
Kate seems more open to the idea of expanding their family. During a visit to Northern Island recently, she met a 5-month-old baby who she said made her feel "broody." When the baby's father asked her, "Baby number four?" she laughed and replied, "I think William would be a little worried."
Three seems like a fine number of kids. So does four, or two, or six, or zero. To each their own. In any case, regardless of how many royal babies there are, eventually they will all grow up into adults and be subjected to harrowing group phone calls, just like the rest of us.