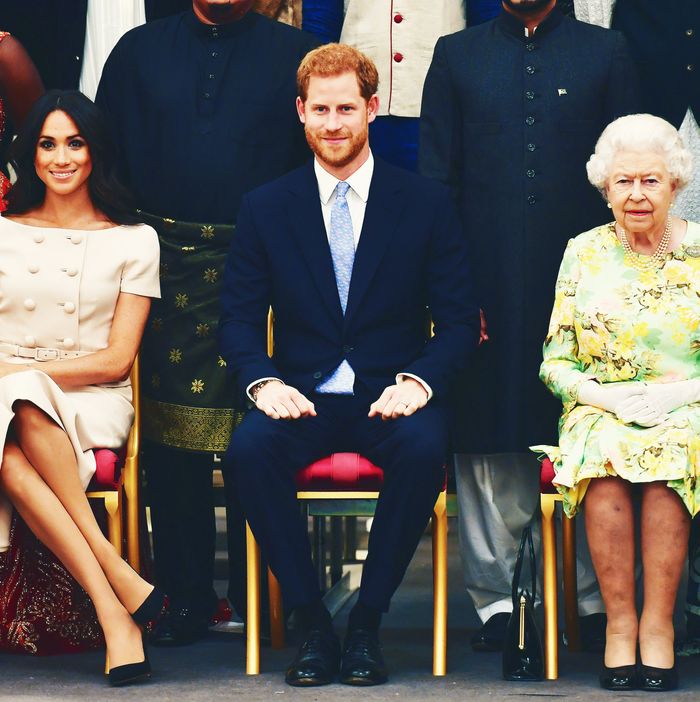 Photo: WPA Pool/Getty Images
Another day, another sweet dollop of royal drama to get us through the tepid cup of break-room tea that is this life. This morning's gossip, from yet another eager British tabloid: Queen Elizabeth reportedly considered stripping Prince Harry and Meghan Markle of their royal titles in retaliation for their "stepping back" from official duties, downgrading her to a countess and him to the "Earl of Dumbarton" — yes, you read that right, Dumbarton!!
A source told the U.K.'s Evening Standard that Queen Elizabeth did indeed consider barring Harry and Meghan from using their "Duke and Duchess of Sussex" monikers. Not just that, but Harry's grandmother was also considering downgrading the couple to the titles of Earl and Countess of something called "Dumbarton," one of Harry's subsidiary titles given to him by the queen on the occasion of his wedding. (Dumbarton is an area in Scotland.) On top of that, Harry and Meghan would have had to undergo the costly renaming of their already copyrighted "Sussex Royal" brand.
But the queen ultimately did what many of us are simply too weak to do: She allegedly decided such a move would be seen as "too petty," and restrained herself. She apparently reasoned that barring Harry and Meghan from using "HRH" (her or his royal highness) in public would suffice. So instead of having to go by the Earl of Dunkin Donuts and the Countess of Dumbledore, they can keep their "Sussex" styling. But just knowing that the queen may have thought about this (and by "knowing," of course, I mean "not really knowing anything at all about what she did or did not do") is fun.