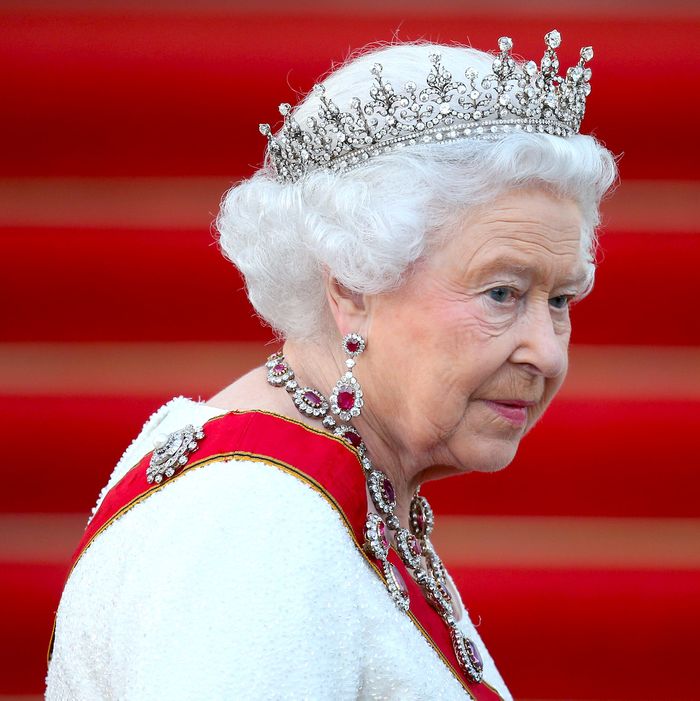 The Queen has called the top members of the Royal Family together for a "summit" to discuss Harry and Meghan's future.
Photo: Sean Gallup/Getty Images
Prince Harry and Meghan Markle shared some big surprising news last week, announcing that they will "step back as 'senior members' of the Royal Family," without explaining what, exactly, that will mean. Queen Elizabeth II has reportedly been eager, in a disgruntled sort of way, for her grandson and his wife to say more. Now — that interminable four-way conference call not appearing to have done the trick — she's summoned Harry, Prince Charles, and Prince William for a "Sandringham Showdown" to hammer out the particulars.
That's according to the Washington Post, which cites a Buckingham Palace official with knowledge of the Monday meeting. This "summit" will mark the first time the big four have been in the same room together since Harry and Meghan dropped the news. Meghan flew back to Canada on Thursday, but may dial in for the conference.
The Telegraph reports that the Queen's aides have been working on possible roadmaps for the couple's move to North America, and that items on Monday's agenda will include Harry and Meghan's titles; taxes, both their own and those paid by residents of whatever country they end up in; a payment plan for their Crown-allotted residence, Frogmore Cottage; their personal security; what their royal role will look like; and their pathway to self-funding.
That last one is a bit of a question mark. Harry and Meghan's announcement mentioned an escalated emphasis on their charitable foundation, and Meghan — who used to work as an actor; perhaps you remember Suits? — recently signed a voiceover deal with Disney. (This, too, appears philanthropic.) According to the Guardian, "It is felt imperative the couple feel they have been given every opportunity to explore their revolutionary idea of becoming 'hybrid' royals in new 'progressive' roles, without being stymied by cost implications." But also, the palace doesn't want the Duke and Duchess of Sussex doing influencer-type product promotion. "They must … ensure, in making money, that they do not make the monarchy seem grubby by relying on their link in touting for business," royal historian Simon Heffer wrote in the Sunday Telegraph.
In any case, the Post reports that the summit will present "a range of possibilities," but that the Queen still wants everything squared away in "days, not weeks" — even if the solution takes time to put in place. The Post predicts that the meeting "could be tense," which, yes: Given that Prince Charles was (allegedly) "incandescent with rage" just a few days ago, tension does seem like a distinct possibility.