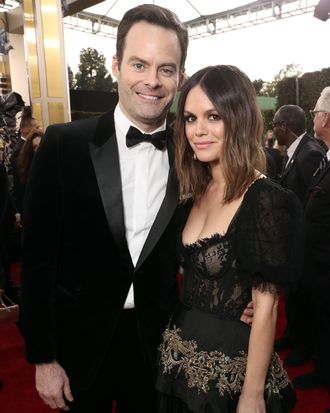 Bill Hader and Rachel Bilson — from here on out, known as "Billson"
Photo: austin_goswick/NBCU Photo Bank via Getty Images
Cuffing Season 2020 is just getting started, and we already have a shocking — yet totally kind of hot — new celebrity couple: Rachel Bilson, 38, and Bill Hader, 41.
After weeks of mounting evidence that they've been kissing, Bilson and Hader confirmed that they definitely are at the Golden Globes, where they posed on the red carpet with their arms around each other — incontrovertible proof that they are, indeed, a couple. Today, in celebration of this confirmation, we christen thee "Billson."
Dating rumors started to swirl the weekend before Christmas, when TMZ spotted the two grabbing holding hands and grabbing coffee — with some of Hader's family members — at a Starbucks in the actor's hometown of Tulsa. Then, on New Year's Eve, the pair was spotted buying two different flavors of LaCroix (mango and apricot — they have great taste) and firewood at a grocery in Los Angeles. And, well, now this.
While Bilson and Hader are already acting like a wholesome married couple who's discussing how to start cooking more vegetable-forward meals together in the New Year, it's unclear how long they've been going out. According to Us Weekly, Bilson and Hader — who co-starred in the 2013 romantic comedy The To Do List — were spotted on what sure looked like a date in Los Angeles in early November, and TMZ reports that dating rumors have been circulating "for a while." They couldn't have been going out for all that long, though. As recently as this past July, Bilson was linked to The Bachelor alum Nick Viall, with whom she was publicly flirty on social media. (Hader hasn't publicly dated anyone seriously since his split from director Maggie Carey — who, interestingly, directed The To Do List — in 2017.)
Meeting the family after dating for a seemingly short period of time, and during the major holiday season no less? And having a cozy night in with two flavors of LaCroix on New Year's Eve? And then confirming the relationship on the red carpet — all in a few weeks? This is one step away from Gigi Hadid bringing her (former) rumored boyfriend of one month to her grandmother's funeral abroad.
This post has been updated.