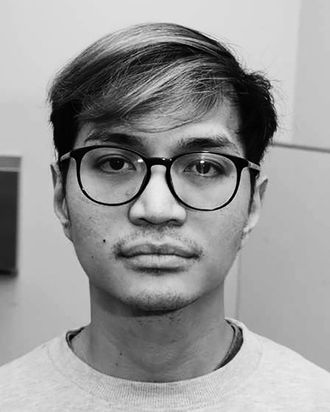 Reynhard Sinaga.
Photo: Police Handout
Reynhard Sinaga, 36, a man described as "the most prolific rapist in British legal history," was sentenced to life in prison on Monday. The judge at the hearing said Sinaga "will never be safe to be released."
According to CNN, Sinaga was found guilty of 159 counts of sexual offenses against 48 different men. Police say there are still 70 additional victims they have been unable to identify, and they believe the true number of victims could be as high as 190 men.
An Indonesian national who lived in Manchester and was studying for his Ph.D. at the University of Leeds, Sinaga had reportedly targeted men coming out of nightclubs and bars in downtown Manchester and then brought them back to his nearby apartment. There, he would drug them, likely with the date-rape drug GHB, then assault them while they were unconscious. Sinaga filmed his assaults, and when he was arrested, police found 3.29 terabytes of graphic material on his iPhone — the equivalent of 250 DVDs.
Officials say the extent of Sinaga's crimes may never be fully known. "We suspect he's offended over a period of 10 years," Assistant Chief Constable Mabbs Hussain told the BBC. "The information and evidence we are going from is largely from trophies that he's collected from the victims of his crimes."
Sinaga was finally caught in June 2017, when one of his victims, an 18-year-old, woke up in the middle of his assault, fought Sinaga off, and called the police.
During his trial, Sinaga claimed that all the encounters he had filmed were consensual and that the men in the videos were simply pretending to be passed out, a claim prosecutors called "preposterous."
"That night was just like any night out with my mates," one victim said in court, according to CNN. "What I didn't know was that there was a monster lurking in the background waiting to take advantage of my drunken state. I want Sinaga to acknowledge what he has done to me and show some remorse, but I doubt that will ever happen."
Since reporting restrictions were lifted in the case on Monday, the Greater Manchester Police have confirmed that more potential victims have stepped forward, though they can't say how many. Duncan Craig, chief executive of Survivors Manchester, a charity that helps male survivors of sexual abuse, told the BBC that his organization has been fielding more calls in the wake of the news.
"There are people ringing up who are not directly affected by this particular case but are people who have been sexually assaulted, maybe even in childhood, that are now feeling like the time is right to step forward and talk," Craig said. "It's something that we don't do enough of."