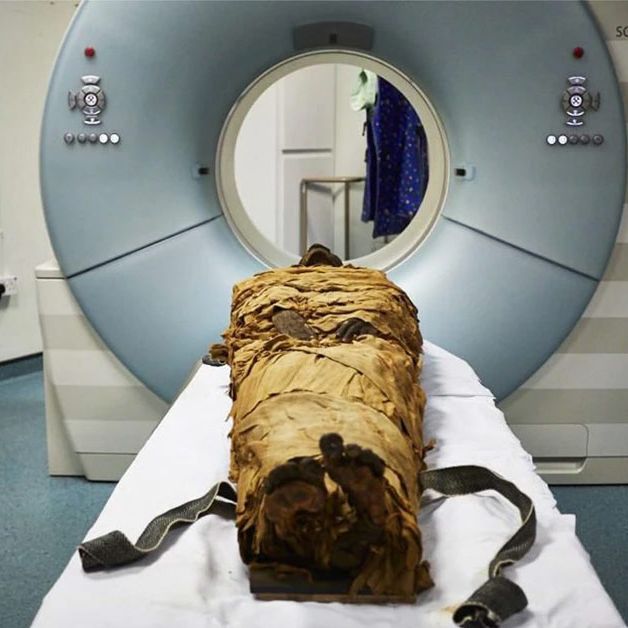 Photo: Leeds Teaching Hospitals/Leeds Museums and Galleries
Oh girl, you weren't kidding. When you described your new boyfriend — powerful, experienced in performing funeral rites, 3,000 years old — I have to be honest, I thought he sounded a little too good to be true. All that and the soft tissue in his throat and vocal tract was reasonably intact enough to be 3-D printed and synthesized with an electronic larynx? I was like, "I doubt it!" But now that I've heard his sexy voice, I have to admit you were right — and I couldn't be happier for you guys.
A team of researchers at Royal Holloway, University of London, led by David Howard, a speech scientist, used interior medical scans of your new boyfriend, the mummy Nesyamun (formerly an an Egyptian priest, currently "living" in the Leeds City Museum in the United Kingdom, nice), to create a create a 3-D model of his throat and mouth. The model was then fitted with an artificial larynx able to re-create your Nesy's sexy voice.
It hasn't been heard since the 11th century BC, but ooh, I was still not ready.
Ehh. Ehh. Ehh. Ehh. Ehh. Ehh. Ehh. Ehh. I could listen to that all day.
"He certainly can't speak at the moment," David Howard told the New York Times, clearly jealous. "But I think it's perfectly plausible to suggest that one day it will be possible to produce words that are as close as we can make them to what he would have sounded like."
Babe, you better get that ring first!!