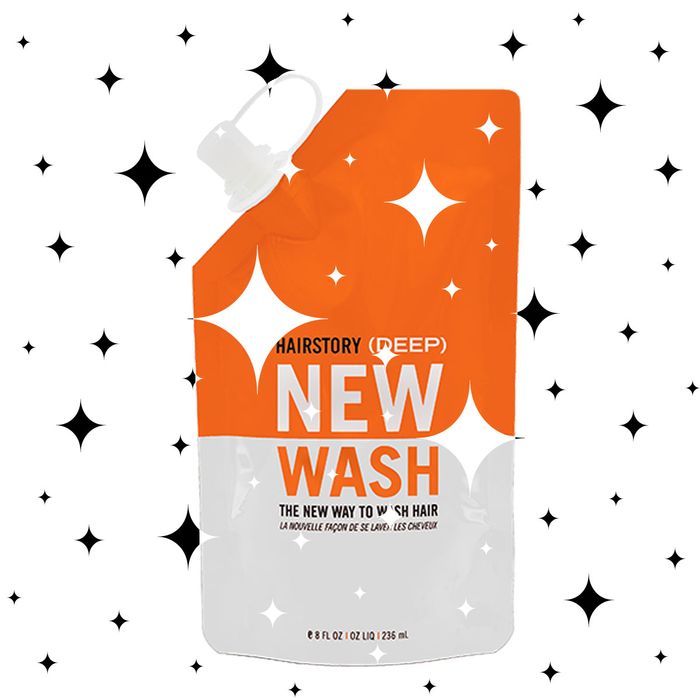 Photo-Illustration: by Stevie Remsberg; Photo Courtesy of Hairstory
Tell me you're not influenced by a product's packaging, and I'll call you a liar. Or I'll try to be mature, take a step back and commend you on your open-minded beauty choices, but I still won't believe you.
I'm a sucker for cool packaging, so of course I fell for the optimistically bright 8-ounce packages that clean brand Hairstory is now using to package its New Wash — a biodegradable, detergent-free, sulfate-free, essential oil–based formula that both cleans and conditions your hair. New Wash has been around for nearly two decades, but the brand recently debuted two new versions: New Wash Rich, for coarse, thick and curly hair, and New Wash Deep, which is for scalps that tend to get greasy quickly.
The company currently has a membership program that includes eco-friendly refill options, but these smaller pouches are a new bonus for first timers or those not ready to commit to the Club. They contain 63 percent less plastic than standard shampoo bottles, which is an impressive number, though Hairstory isn't stopping there. They hope to raise the percentage higher as they continue to find new materials for their pouches, but their big goal is to be fully recyclable and fully refillable by 2021.
Hairstory been an anomaly from the beginning. Driven by the belief that commonly-used ingredients like sulfates and silicones were aggravating our hair (one of its founders also founded Bumble and bumble), they created New Wash in 2003. The difference was in how you used it: Massage it in with your fingers as you would a standard shampoo (they also offer a scalp massaging brush, should your fingers tire quickly), rinse, then apply to your hair's ends and wherever else it feels dry, then rinse again. It was somehow both shampoo and conditioner, which mades no sense … but it worked.
Even Hairstory's salon was different. Located in two rooms tucked into one end of founder Michael Gordon's FiDi apartment, it wasn't really a salon. You were asked to leave your shoes by the elevator, and even though no one outright instructed you to keep your voice down, the atmosphere implied that hushed tones would be appreciated.
Today, HS HQ resides in the Flatiron district (both Gordon and his shoe-free home are no longer associated with the company). On a recent visit, creative director Wes Sharpton tried New Wash Deep on me, since my scalp does tend to get oily a few days after shampooing. I didn't actually monitor my scalp's oil levels afterwards, but I did notice that my hair had a lightness to it that stuck around longer than it usually does. Will I sign up for Hairstory's New Wash Club? Let me get through my 8-ounce pouch and circle back when I'm done. $40, hairstory.com