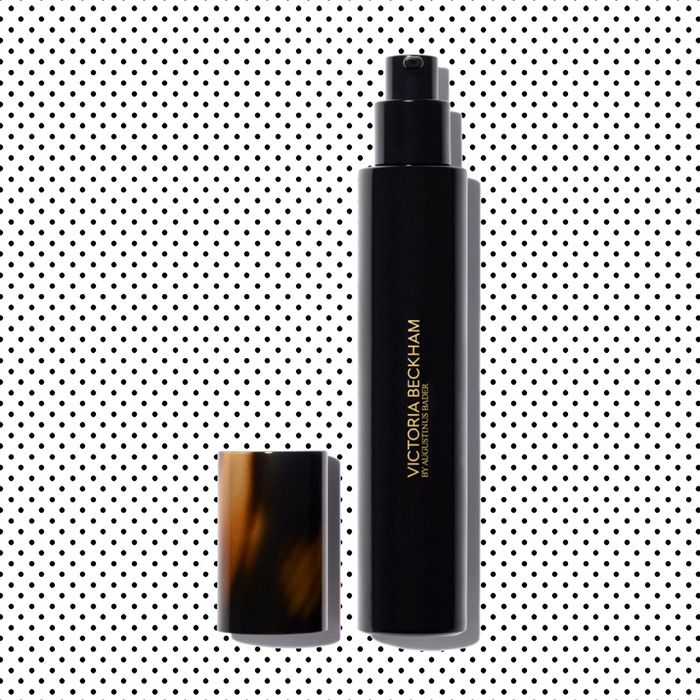 Photo: Courtesy of the Retailer
Last year marked the rise of the little expensive cream that could: Augustinus Bader, a moisturizer so popular and luxe that we wondered if it was the secret to rich-person skin. It came out of nowhere and quickly ascended to La Mer–like status, with celebrities and their makeup artists, hairstylist, and aestheticians describing it as "unforgettable" and saying they're "obsessed."
Victoria Beckham loved the cream so much that she partnered with the brand to create an exclusive, priming moisturizer. The VB x AB Cell Rejuvenating Priming Moisturizer contains a similar blend of ingredients to the original Bader and is also slightly more affordable ($95 for 30 ml, as opposed to $265 for 50 ml). The Cut gave it to several people to see if it truly does give you skin like Posh Spice.
Erica Smith, Beauty Writer
This cream made my face feel freakishly soft all day long. I kept going back to tap it, double-checking that it was still pillowy as the day wore on (it was). This was good because I like having soft skin, but also bad because I should not be touching my face all day. Hopefully the magic complex that's mixed in provides some sort of protective barrier against my fingers.
I haven't tried the OG rich-people-skin cream, but this seems pretty rich-person-skin territory to me. It gave me the subtle, healthy looking glow of someone who doesn't have much to worry about. The packaging is just as posh as you'd hope, and the sleek shape makes you feel like you're holding a ginormous expensive mascara, which is satisfying for some reason. The texture of the primer itself feels very luxurious, instantly melting into your skin, and a little goes a long way, which is nice considering this price. It feels almost too indulgent to use this every day like VB recommends, but hopefully I get over it so I can see if it gets my skin to look rich on its own over time.
Daise Bedolla, Social Media Editor
Usually in the winter, when my face is as dry as a desert, the only cream I can rely on to prevent my skin from cracking is Weleda's Skin Food. So despite the amazing reviews Augustinus Bader has received, I was nervous about trying it. Plus, at $95 for 30 ml, I didn't want to get hooked on a product that I can't budget for.
Too late. AB x VB feels incredibly light and I only need two pumps to cover my entire face, keeping it hydrated throughout the day. Without makeup, and with nothing but Eve Lom Radiance Face Oil on top of the cream, my skin has a slight bounce to it, no signs of dryness, and none of that waxy feeling I've gotten with other priming-moisturizing hybrids. I've been avoiding a full face of makeup this month (like Dry January … for makeup), but this played well with my tinted Peter Thomas Roth SPF 45, and really, that's all I ask for.
Jane Larkworthy, Beauty-Editor-at-Large
I've never marched to the same tune as the Bader republic, but I am a fan of Victoria Beckham Beauty (especially her eye shadows). The tall faux-tortoiseshell tube this comes in feels super chic — Beckham's doing? — and the formula feels nice, but when I applied it to my cheek, it became a little red. I did not panic, and am glad that I didn't. An hour later, I assessed the situation. Redness gone, and what appeared was smoother skin that had an almost reflective quality to it. Maybe I'll become a Bader believer.
Kathleen Hou, Beauty Director
If the Augustinus Bader cream is like hand-churned gelato made by a nonna in Bologna, then the VB x AB cream is like Talenti — it's AB-lite. Which is to say, both are pretty great. If you made me do a blindfold test between the two, I don't think I could tell the difference. The VB x AB cream has the same velvety, balmy touch as the original, making my skin feel like it is being shrouded in cashmere.
Having gone through two bottles of Bader, I'd like to know how much of the heroic skin-rejuvenating TFC-8 in the original is in this less-expensive version. I think that's a secret, unfortunately. But it certainly feels like there's a fair amount of it in here, and when I use it, my skin looks like I increased the VSCO brightness scale by a few points. Most primers are meant to make your makeup last longer. I'm not sure if this does that, but it does make your skin, your makeup, and thus your whole face, look a little better.
Anna Silman, Culture Writer
I have always wanted to try Augustinus Bader's legendary Rich Cream, and when I heard he was teaming up with Victoria Beckham — who perpetually looks like she just emerged from her own private yacht — I knew I had to get in on the action. The moisturizer itself was incredibly light and silky soft to the touch, with consistency somewhere between a cream and a primer. Every night, as I squirted dainty pumps from the sleek black tube and massaged them delicately onto my cheeks, I felt like my net worth had doubled. Do I have rich-person skin yet? The jury's still out, but I do have a rich-person skin-care ritual, and I'm pretty sure that people can tell.
If you buy something through our links, New York may earn an affiliate commission.