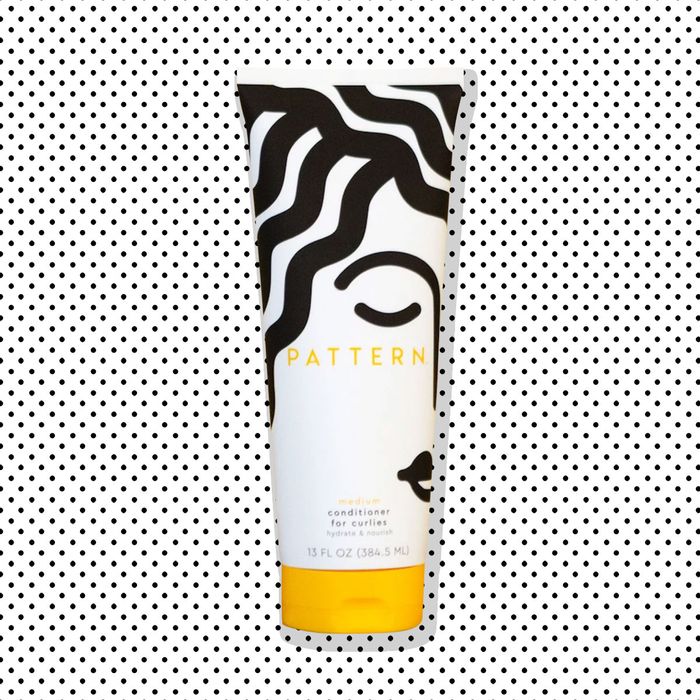 Photo: Courtesy of the Retailer
Back in September, Tracee Ellis Ross — the actress, Emmy winner, and former New York Magazine fashion intern — launched a hair-care line called Pattern for curly hair. Her goal, as she put it, was to "expand the aisle," making more quality beauty products accessible to more women in the same way Rihanna did with Fenty Beauty. The line has three different types of conditioner, all offered in large sizes, since curls need more moisture, and all thoroughly tested. The Cut asked a few curly-haired women to give it a trial run. Here are their thoughts.
Erica Smith, Beauty Writer
I try to put my hair away in protective styles as often as I can because I struggle to stick to a curly-hair routine for more than a few months. I'm just too lazy and I want those two to three daily hours of my life back. But this line makes the whole process, from shower to styling, so much easier. I've officially been convinced to keep my curls out a little longer than usual.
Every product in the line smells heavenly and is the ideal, delicious-but-not-intrusive level of scented. The magical shower brush truly cut down on my detangling time which is honestly a miracle, and the conditioner (I used heavy) has a really good slip to it that melts knots and tangles. Also, bless Tracee Ellis Ross for making the conditioner bottle larger than the shampoo and finally bringing balance to my shower.
The whole system (shampoo, conditioner, leave-in) was really good at bringing out my natural curl pattern (between a 3B and 3C). My curls were bouncy and the curliest they've been in a while, and they felt clean, not coated. That said, my hair is pretty dry and needs a leave-in styler that's creamier and heavier than this one. Thankfully, Pattern's leave-in is so silky that it actually makes the perfect primer for my curls, and then I layer heavier stylers on top.
Victoria Young, Editor, Vox Creative
My first impression of Pattern had largely to do with the viscosity and the scent. The shampoo, conditioner (I tried the Heavy), and leave-in — it's all thick and smells amazing. It felt heavy in my hands and hair, but after I rinsed my curls (a type 3C), they didn't feel weighed down. I definitely noticed an immediate difference in my texture: It felt much softer, lighter, and bouncier, but dry as a desert. The leave-in helped, but you need to use a lot for it to really moisturize and make a difference, which I don't love.
Overall, I enjoyed Pattern in comparison to the Devacurl or Shea Moisture products I typically use, and I would probably recommend it to friends (especially the conditioner). But I'm not sure I saw enough of a difference for me to swap brands entirely, especially considering how much product is needed at the price point.
Gaby Grossman, Senior Producer
I could not be happier about the results with Pattern. The shampoo and conditioner (I used the Medium) have changed my life — I can't wait to buy more. I have a very dry flaky scalp and my curls (a type 3) literally can never get enough moisture, and Pattern worked perfectly for me. My curls looked bouncy and fresh and felt clean for hours. The leave-in conditioner also helped extend my style; my hair was frizz-free all day, even after a couch nap.
I added it once to dry hair once and it didn't work as well. It felt a little sticky. But that's my only complaint!
Tara Abell, News Editor, Vulture
First of all, I love this giant bottle. If you have curly hair you know you always use more than the ridiculous "dime-size" amount of recommended product. Fancy curly-hair products too often come in tiny tinctures, so I appreciate the heft of this big tube. When I applied the leave-in conditioner in the shower I didn't love the smell (a bit too powdery for me) and the texture of the cream itself was kinda gloopy. I was worried it would leave a film. But after some diffusing and some air-drying (okay, several hours), I loved the definition I got.
I'm overdue for a haircut and a deep treatment, so my curls (a 3A) are being held down by weight, but I still got some really nice volume and my normally brittle strands had a nice softness. This photo was taken in the gym bathroom, after a workout, a shower, and ten minutes in the sauna. Please excuse this ridiculous face I'm making, but come on, look at that bounce!
Becca Hafter,  Associate Director, Creative Strategy
Years of curly conditioning have taught me to fear any shampoo that's not a co-wash, but the Pattern shampoo, while looking and feeling like a traditional shampoo (liquid, shiny), is hydrating and has a luxurious lather. The conditioner is similarly great. Lots of other curl conditioners I have used go on waxy and never rinse out, but this applies slick and rinses clean.
I am not generally a leave-in conditioner person they take forever to dry and don't have the muscle to hold my curls (a type 3B) in high humidity. I didn't love the Pattern leave-in for those reasons. But all three products smell good (expensive, even) and the packaging is cute. I would buy the shampoo and conditioner again.
Emilia Petrarca, Senior Fashion Writer
I packed the Pattern leave-in conditioner and shampoo for my recent family vacation to Vietnam, where it was hot and humid most days. I was nervous about frizz, so I didn't use the Pattern conditioner — only a dab of the leave-in in the shower to get out tangles with my fingers, ending with a cold rinse, and a dab of DevaCurl Arc Angel after drying with a towel. It worked! My hair felt light and soft, but not out of control. Our guide in Saigon told me that curly hair is seen as a sign of intelligence. I agreed.
Joann Manigo, Office Manager
This is one of the best darn hair-product lines for curly hair! It was beyond effortless to comb everything through the lovely curls I was blessed with. One light criticism is that I would have liked the scent of the product to be stronger. The smell wasn't bad — it was just nonexistent. And one of the many benefits to having bouncy, big, voluminous hair is hearing people compliment you how good it smells when you pass them by.
If you buy something through our links, New York may earn an affiliate commission.