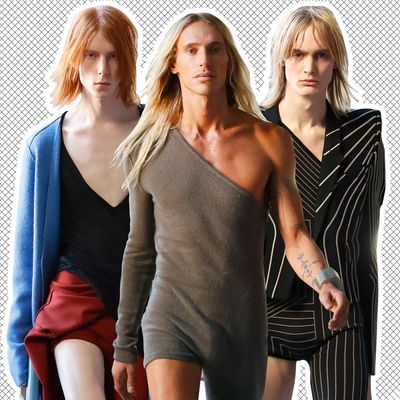 Let's travel back to May 2017. Harry Styles has just released his first solo album, tall man James Comey has just been fired by Donald Trump, and a Kickstarter for a piece of clothing called a RompHim has just gone viral.
The RompHim introduced straight men to the concept of wearing one full-body article of clothing, but sadly, even though there are some good men's jumpsuits out there, the idea never really caught on. But maybe now is the time. At Rick Owens's Fall 2020 menswear show, he showed several one-legged, one-sleeved jumpsuits. The style is such that it looks like someone just draped fabric over you asymmetrically, which is an appealing thing to imagine.
The whole collection is very David Bowie as Ziggy Stardust. Bowie was a champion of the one-legged jumpsuit — be it in a knit fabric or one with a literal fire crotch. Owens's take looks almost subdued in comparison … almost. The first look was a slate-gray jumpsuit worn with a chunky metal bangle, glam-rock boots, and Fabio-like flowing hair. The model looked kind of like Rick Owens as a blonde — Rick as Bowie. I think I'm in love.
Really, in comparison to jumpsuits of yore, the Owens one is pretty reasonable. And the designer showed a variety of ways to incorporate it into your everyday avant-garde wardrobe. You can wear it with a tank top and a cardigan or a blazer, or with a pinstripe blazer and knee-high pinstripe socks (another Bowie reference). See more inspiration below.