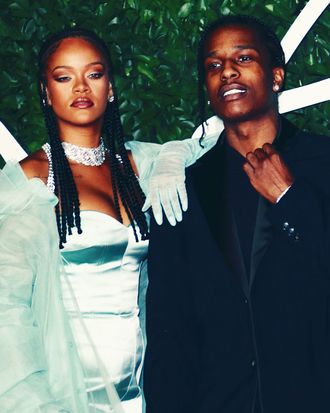 Photo: Keith Mayhew / Echoes Wire/Barcroft Media via Getty Images
Rihanna may be newly single … but she's far from alone.
Rumor has it that just a week after news broke of the demise of her three-year relationship with tall billionaire Hassan Jameel, the pop star has begun dating rapper A$AP Rocky, although they're not exactly putting labels on their alleged fling. The pair were first suspected of hooking up all the way back in 2013, when they were seen flirting in New York. At the time, Rocky denied that gossip, telling Distractify, "I don't even look at her like that. She's sexy, but I'm good."
A source told The Sun on Tuesday that Rihanna and A$AP Rocky "shared a hotel suite" during a recent trip to New York. "However, Rihanna is reluctant to put a label on it as it's so soon after Hassan … they're really enjoying each other's company and taking things easy as it's still early days."
The source added that Rihanna retains the mindset of a person not currently in a relationship: "It's really casual between them and she's not thinking about whether there's a future with Rocky. She's a newly single girl having fun." Which is all well and good, although there's little chance a romantic entanglement between two of the biggest entertainers in the world can remain low-stakes for long. If anyone could do it, it would be Rihanna.
I'm not even mad at this: A$AP Rocky is too damn cute. It's been a while since we've witnessed Single Rihanna in full-force, and she's fun, but Girlfriend Rihanna is cool too, as is No-Strings-Attached Power Couple Rihanna.