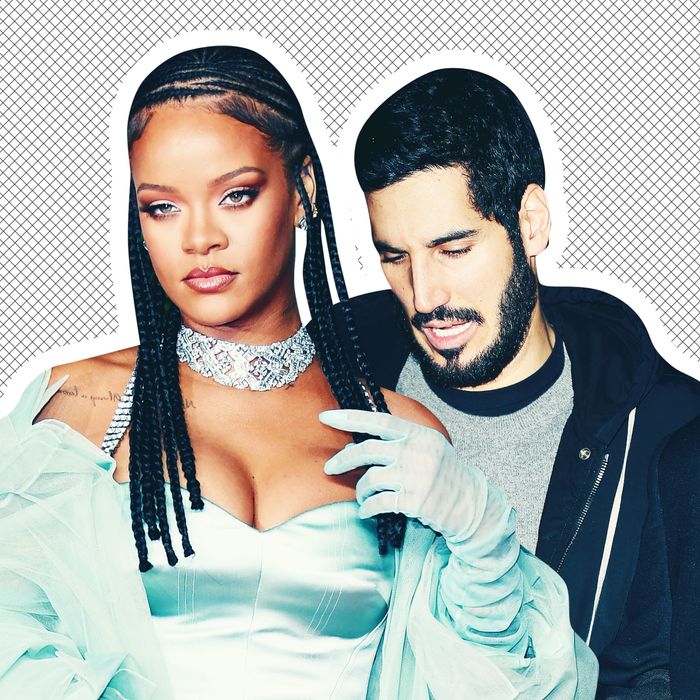 Rihanna and Hassan Jameel.
Photo: Getty Images, SplashNews
Can you feel that? The wail of delight on the wind? The sounds of a private Boeing 767 being refueled, of Birkin bags being thrown haphazardly into a suitcase, and a $750,000 sex watch being urgently reset? Yes, somewhere, probably, Drake is on the move, because according to reports by Us Weekly and TMZ, Rihanna and her billionaire boyfriend of almost three years, Hassan Jameel, have broken up.
The pair were first linked back in 2017, when they were photographed making out in a pool in Spain. "It's hard for her to get close to anyone, but she seems very happy," a source told People about the relationship at the time. The couple still seemed to be going strong this summer, when Rihanna said in an interview that "of course" she was in love, and was spotted vacationing with Jameel and his family on a massive cruise ship off of Italy's Amalfi coast. The Jameels are the 12th richest Arab family, according to Forbes, and have an estimated net worth of $1.5 billion.
While both outlets say they've confirmed that the pair have split ("Ending a true power couple, when it comes to wealth and influence," according to TMZ), neither provided details about when or why the breakup happened, and neither Rihanna nor Jameel have confirmed the news yet.
In any case, Rihanna was spotted looking impeccable at JFK airport on Friday, pairing a baggy black Vetements sweatsuit with bedazzled, $1,600 heels. Innovative travelwear, or glamorous post-breakup outfit? I guess time, and Drake's socks, will tell.