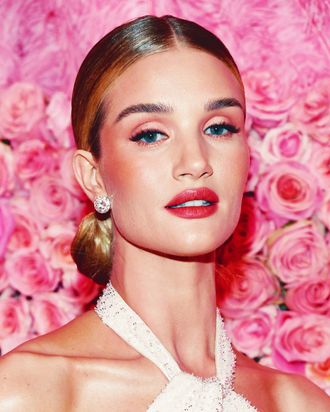 Photo: (C)Kevin Mazur/Getty Images for The Met Museum/
Rosie Huntington-Whiteley and her beautiful face have yet another job to add to their impressive cumulative résumé. WWD reports that the model, beauty EIC, and global ambassador for tousled waves will be serving as the first-ever celebrity ambassador for cruelty-free luxury beauty brand Hourglass Cosmetics.
You can sense the chemistry between the two even through a cold, hard computer or cell-phone screen. Huntington-Whitely revealed on her personal Instagram account that she has "loved" Hourglass "for years," but things really started to heat up in 2019 when the model and her beauty website, Rose Inc., collaborated with the brand on numerous occasions. Stuff got serious when both continually posted about the other on their feeds (not just stories that disappear), and now, it's all Instagram official:
Congrats to the happy couple! To celebrate the union, Huntington-Whiteley has introduced us all to the brand's latest complexion product, which launched today: Vanish Airbrush Concealer, a full coverage, weightless, and waterproof concealer. It pairs nicely with Hourglass' Vanish Seamless Finish Liquid Foundation, which has the potential to make you look like this.
Huntington-Whiteley ensured there is "more to come." We're very much looking forward to more cruelty-free cheekbones and lips in 2020.