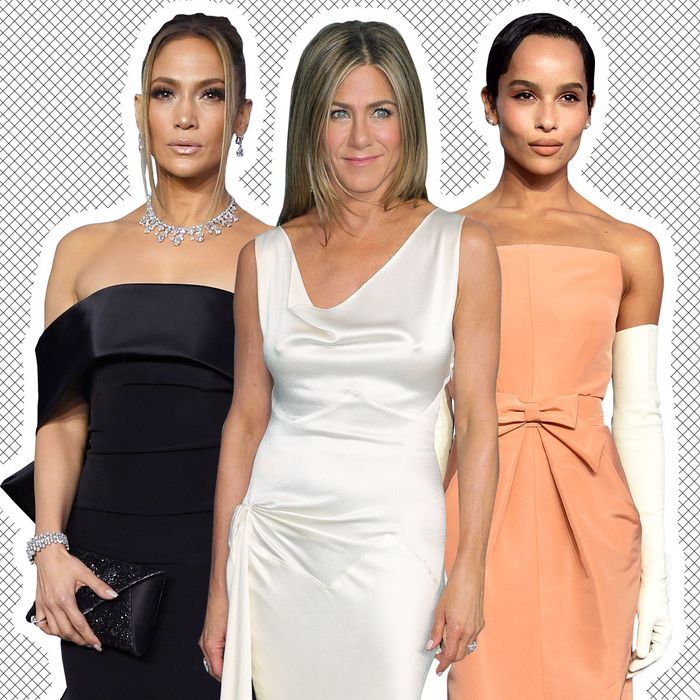 Jennifer Lopez, Jennifer Aniston, and Zoë Kravitz.
Photo: Getty Images
All anyone could talk about after the 2020 Screen Actors Guild Awards on Sunday night was that emotionally chaotic brush between America's favorite celebrity exes, Brad Pitt and Jennifer Aniston. But it's worth noting that they each looked extremely good independent of one another on the red carpet — Brad with his unbuttoned shirt, and Aniston in a formfitting white Christian Dior gown. Their outfits only strengthened the illusion that we were back in the year 2000, when Brad and Jen were happily married.
Believe it or not, there were other celebrities on the red carpet that night as well — and they also looked devastatingly good. Below, we break down the best, worst, and hottest looks of the 2020 SAG Awards.
Best Going-Out Top: Phoebe Waller-Bridge
Okay this is the kind of outfit I want to see Fleabag star and creator Phoebe Waller-Bridge wearing on the red carpet — not some boring black-tie gown. Her bedazzled mesh Armani Privé top is fun but also appropriately formal.
Biggest Royal-Defector Energy: Helena Bonham Carter
Crown star Helena Bonham Carter looks ready to relinquish her day job as a public figure and move to Canada.
Best Revenge Dress: Jennifer Aniston
Who knows whether Jennifer Aniston was thinking about Brad Pitt when she chose this Christian Dior look for the SAG Awards. (I'd like to assume she wasn't.) But after their big moment, this gown, which fits Aniston perfectly and is coincidentally the color of a wedding dress, will go down in history as one of the best revenge outfits of all time. Still, let's not make this about Pitt. Jen looks hot. Period.
Best Turtleneck: Catherine O'Hara
You simply cannot go wrong in a sequined Marc Jacobs turt dress.
Most 13-Going-on-30: Julia Butters
Everyone's talking about the Brad-Jen embrace, but I'd also like to direct your attention to the confidence of Once Upon a Time in Hollywood actress Julia Butters, who waltzed right up to the table of her co-star Leonardo DiCaprio and put her hand on his shoulder like he was her son. She's 10.
Most Likely to Get Breakfast at Tiffany's: Zoë Kravitz
Zoë Kravitz has really been leaning into her Audrey Hepburn side lately. It's a good look for her, especially after playing a Monterey stoner mom on Big Little Lies. Here, she wears Oscar de la Renta.
Best Use of Couture: Cynthia Erivo
Celebrities are incredibly rich and well connected, so it's always baffling to me when they show up on the red carpet wearing something quotidian and safe. Thank you, Cynthia Erivo, for using this opportunity to wear Schiaparelli couture! This is what gowns like this are made for.
Most Winona Ryder: Winona Ryder
Dior Haute Couture has never looked moodier.
Hardest Color to Photograph: Kathryn Newton
This neon-orange Valentino gown is not easy on the eyes, but Big Little Lies actor Kathryn Newton gets points for trying something new.
Best Crop Top: Charlize Theron
Charlize Theron is uniquely skilled at harnessing the power of her hotness on the red carpet. This Givenchy gown hints at all the right places — a little leg, a little abs, and those arms! My God.
Coolest Suit: Patricia Arquette
Very David Bowie. I also love the little sash/cape thing in the back.
Hottest in the Classiest Way: Jennifer Lopez
Jennifer Lopez is really going through a big bow phase. Remember her Christmas-present gown at the Golden Globes? This Georges Hobeika gown is much sleeker. She also has Holly Golightly energy.
Outfit I'd Most Like to Wear IRL: Margaret Qualley
If I were one million inches tall and rich enough to afford a Chanel suit, this is how I'd like to look every day of my life.
Bonus to Quench Your Thirst: Brad Pitt
Here is a photo of Brad Pitt drinking water. Remember: Hydration is key after exposing yourself to so much hotness.