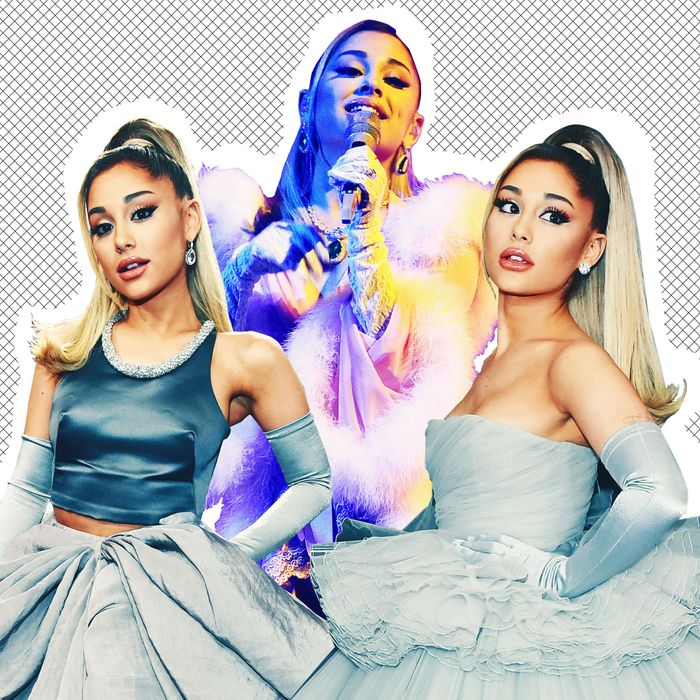 Ariana Grande.
Photo: Getty Images
While the Grammys are known for having some of the more exciting red-carpet looks out of all the award shows, last night's ceremony stood out: A truly impressive number of celebs had genuinely fun, weird outfits. There was Billy Porter's rhinestone jumpsuit and matching automated fringe hat — a look seemingly inspired by a 1970s-era standing lamp. And Lil Nas X's hot-pink harness, one of the best takes yet on the new red-carpet staple. Oh, and how could I forget Ariana Grande's dresses — all 4,572 of them.
To start the night, the singer — who was nominated for five Grammys — stepped onto the red carpet wearing a Cinderella-style ballgown made of approximately 1,000 feet of gray tulle, which she spun for cameras, and at one point, crouched down into. But that was only one-half of her red carpet look. Before she left the carpet, the singer changed into yet another outfit: a puffy two-toned gray dress. (She did, however, keep on her opera-length gloves from the first look.)
And, as you may have suspected, Ari didn't stay in that outfit for very long. At some point during the ceremony, she put on a strapless emerald gown. Okay, so, three different elaborate outfits during the nearly four-hour-long show. Except, wait …
During her four-song performance, Ari wore two more outfits: an elegant black ballgown, and a sexy fembot-esque pink robe. So technically, she had five different looks in a span of four hours. Five! That's more outfits than I sometimes wear in five days — or, if I'm being honest, a whole week.