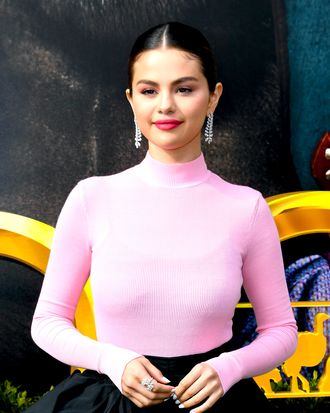 Selena Gomez.
Photo: Jon Kopaloff/Getty Images
Selena Gomez recently released a new album, Rare, her first in almost five years. Many things have happened in the intervening half-decade: The 27-year-old weathered a number of severe incidents with her physical and mental health, dated the Weeknd, and briefly rekindled a relationship with ex, Justin Bieber. Rare reflects the whole emotional rollercoaster, and although she has mostly avoided naming names while promoting it, Gomez granted in an interview with NPR that the single "Lose You to Love Me" is about Bieber, just as you suspected, and that she felt like "a victim of certain abuse" while they were together.
Speaking with Weekend Edition Sunday host Lulu Garcia-Navarro, Gomez first explained that "Lose You to Love Me" is "not a hateful song; it's a song that is saying — I had something beautiful and I would never deny that it wasn't that. It was very difficult and I'm happy it's over." Asked directly if Bieber inspired the song, Gomez acknowledged that he did, but said she didn't see their relationship as one of the "harder parts" of the past few years. "I've found the strength in it," she said. "It's dangerous to stay in a victim mentality. And I'm not being disrespectful, I do feel I was a victim to certain abuse." When Garcia-Navarro asked if Gomez meant emotional abuse, the singer replied:
Yes, and I think that it's something that — I had to find a way to understand it as an adult. And I had to understand the choices I was making. As much as I definitely don't want to spend the rest of my life talking about this, I am really proud that I can say I feel the strongest I've ever felt and I've found a way to just walk through it with as much grace as possible.
Bieber reportedly did not return NPR's request for comment, but he has also been upfront about his fragile emotional state. He has admitted to treating people … not so well: In an emotional Instagram post from September, for example, he wrote that his early fame and riches led him to become disconnected and, as an adult, depressed. "I became resentful, disrespectful to women, and angry," he explained. "I became distant to everyone who loved me and I was hiding behind, a shell of a person that I had become. I felt like I could never turn it around. It's taken me years to bounce back from all of these terrible decisions, fix broken relationships, and change relationship habits."