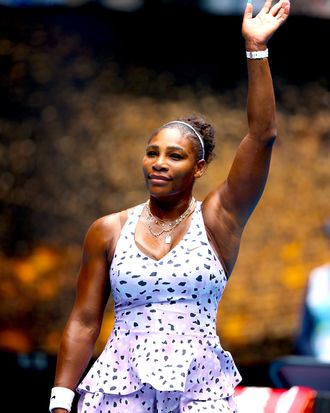 Serena Williams, GOAT.
Photo: Mark Kolbe/Getty Images
You may have heard Serena Williams referred to as the "Greatest of All Time," or G.O.A.T., for several reasons. One, very good at tennis. Two, very good advocate for gender equality and women's rights. Three, very good friend. With respect to that last point, let me give you an example.
On Monday, Williams sat down to answer press questions at the Australian Open — questions you'd think would generally pertain to sports, given the setting. One bold reporter, however, took the opportunity to ask the athlete for insight into the situation with her close friend, Meghan Markle. The Duke and Duchess of Sussex, as you may have heard, recently decided to "step back as 'senior members' of the Royal Family," in order to "carve out a progressive new role" for themselves, and — Prince Harry has suggested — escape the brutal media scrutiny to which the couple has long been subjected. This, in turn, prompted a journalist to probe Williams for information, a request Williams coolly and definitively denied.
"Your good friend, Meghan Markle, who attended your last two slams, and Harry, have taken a move, a stance that many people think is extraordinary and historic," the reporter asked, according to New York Times writer Ben Rothenberg. "What are your feelings about that? Have you spoken to her?"
To which Williams replied: "Yeah. I have absolutely no comments on anything with that. But good try. You tried. You did good."
Game, set, match — is that what they say in tennis?