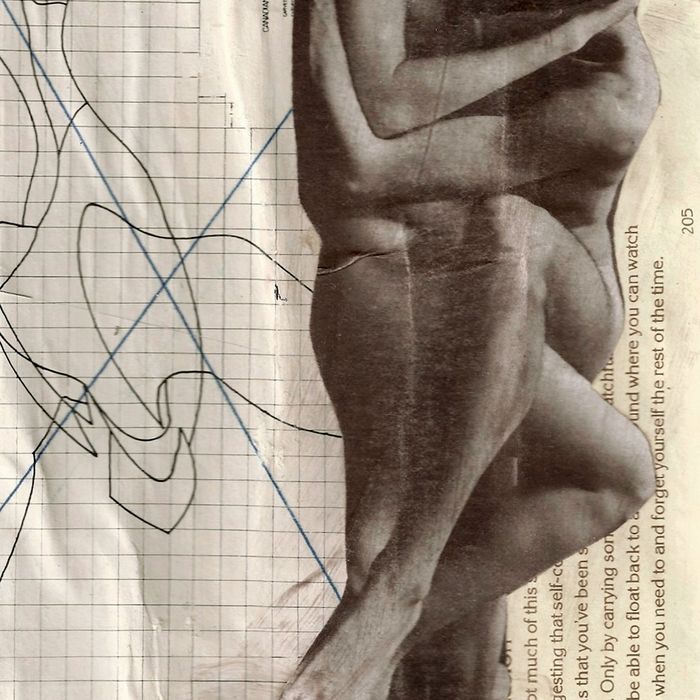 Photo-Illustration: James Gallagher
This week, a woman buying a house with her mom while fulfilling her needs with two different men: 27, single, Seattle.
DAY ONE
8 a.m. Send M a text thanking him for another great night. I met him six weeks after I broke up with my ex. At first, he was just a rebound. But from our first date, we've had amazing chemistry, and we've been hooking up basically weekly for the last three months.
9 a.m. Quick call with the contractors. Last spring, my mom and I bought a house together and we've been fixing it up. Eight months later, it's almost finished!
10 a.m. Confirm drinks with L for this evening. L is one of my favorite people. He's in a polyamorous marriage, and we dated for about five months last year. Then he asked to de-escalate and we stopped sleeping together. At the time, I was really crushed because I was falling hard, and I asked for some space. Since the fall, we've been talking again and spending more time together. It's been a little confusing, to be honest — it feels a little flirty and definitely more intimate than a typical friendship. I'm never quite sure where the boundary is with him. I wonder if a few cocktails will loosen us up.
12 p.m. Aghh, so many last-minute decisions on the house! Contractor has questions about the flooring, and I dip out on a break to call him back. It's a relief, though, to be this close. I've been living with my mom in the suburbs for the last three months since my ex and I split up. We were together for four years, and I had thought we would be together if not forever, then at least long enough to get married and have a kid or two. Ultimately, though, we just found ourselves at very different versions of 27. I was ready to buy a house, get married, settle down. He still needed to figure out who he was as a person and felt like he couldn't explore with those expectations. At this point, I joke that my most committed relationship is the one I have with my mom.
4:30 p.m. Headed over to drinks with L. For the last few weeks, I've been trying to work through my feelings for him. I don't really want to sleep together again. But I do feel an intimacy between us that I can't put my finger on. Or maybe I'm imagining it!
I give him a book with an inscription: "It's been such a joy to get to know you over the last year. I'm so glad we met!"
5 p.m Meet L at the East Coast–style pizza place we both love. I give him the book, although he doesn't see the inscription. We head to another bar for cocktails. After a few more drinks, I float how our friendship has honestly felt pretty similar to the time we spent together when we were dating.
Surprisingly, he agrees! He says he really values our time together and the intimacy that we share (and notes that it's not the kind of friendship that would ever fly if he and his wife had a more traditional relationship). It seems that he had been treading carefully because he wanted to respect my boundaries, but it was such a relief to us both that we were feeling similarly.
He asks for assurance that I'm comfortable with a closer relationship, emotionally if not physically. I say I'm feeling great now, but to give me a few days to sit with it to make sure.
DAY TWO
9 a.m. Head to Home Depot to pick up door handles and paint samples for the new house.
10 a.m. Text from M telling me he jerked off to me this morning. He promises to send me some dirty texts for my work trip next week. M and I don't have a ton in common other than a mutual love of sex and weed. But I've honestly never been in a relationship with someone who purely lusted after me and could give two fucks about my brains or sense of humor. This relationship makes me feel better about every insecurity I had as a nerdy teenage virgin.
11 a.m. Meet my girlfriends for brunch. I'm still elated from my conversation with L last night and eager to tell them about it. They seem skeptical that I'm actually getting what I want out of this relationship, but I reassure them that I'm really pleased. I explain that I'm in an extremely fulfilling sexual relationship and a really fulfilling emotional relationship, and they're not the same person and neither one is my boyfriend. Most importantly, I'm still officially single, which feels really important to maintain after breaking up with my ex.
My friends convince me to buy a card for M that has a Santa looking over his shoulder asking, "Does my ass look fat in this?" M is well known among my friends for his ass enthusiasm. Before him, I had only dabbled in butt stuff many years ago. Who would have ever thought I'd be getting my ass eaten weekly?
5 p.m. Pick up K, my oldest friend, to drive to a birthday party.
7 p.m. Arrive at the party and start looking out for any cute boys. Flirt outrageously with a cutie in a newsboy cap before noticing his wedding ring. I back off, although in this town, you can really never be sure about whether or not people are monogamous.
1 a.m. Get back late and try to get a good night's sleep before leaving for a work trip tomorrow.
DAY THREE
11 a.m. Packing for my trip. I decide to bring two different vibrators to enjoy in my hotel room.
3 p.m. On the bus, I text L to say hello, and he asks me how I'm feeling after our conversation two days ago. I say I still need more time to process.
4 p.m. M sends me a dirty text and I find myself getting super wet on the bus. I sext him back, but I still have hours to go on the bus before I'll have a chance to get off.
8 p.m. I ask my friend B if he has time to chat in the next few days. I want his perspective on what to think about the relationship with L. B is married to one of my best friends. We have a funny friendship: When we first met, we discussed having a threesome, which never happened. Now, it's a running joke that I'm one of our only friends who hasn't fucked him. He's very experienced in non-monogamy and nontraditional relationships, so I always appreciate his perspective.
DAY FOUR
7 a.m. Wake up and decide to masturbate. I brought both a rabbit vibrator and a fancy suction toy. One of my 2019 sex goals was to squirt, and I'm hoping that this combo is what will get me there. Today's not the day, but I still come super hard. I text M about it, and tell him I want to get into orgasm-denial play.
8:30 a.m. Call with B. He tells me I'm overthinking my relationship with L (as usual) and to just enjoy how it's developing without getting too attached to any particular outcome. Wise words!
10 a.m. Work meetings with my boss and our partners. I'm waiting for M to text me back for a distraction. Normally he's super quick at responding. Fortunately, we've reached a point where I'm no longer worried when I don't hear from him right away. I know he'll be back.
12 p.m. Decide to text L. I know he's probably been anxious to hear from me. I say that I'm still feeling great about where we're at and that I feel joyful and delighted about our relationship.
4 p.m. Prep for my work event. Confirm everything with the venue and caterer and wait for guests to arrive.
5 p.m. L texts me back finally. Apologizes for the delay and says it was so good to hear from me. He's looking forward to many more adventures together. Me too!
6 p.m. Find the only guys under 30 at the event and hit them up. They tip me off to $1 Miller High Life at a bar around the corner, and we agree to get a beer after.
8 p.m. The bar is divey as hell and features a woman with huge tits eating a hot dog as the logo. But hey, who can argue with a $3 bar tab? I try to figure out if either of these guys is straight and worth taking back to my hotel. Sadly, the cuter guy admits he's only fucking men right now, and I'm not feeling the other one.
10 p.m. Head home alone.
DAY FIVE
7 a.m. Wake up feeling reflective. I journal about what my values and boundaries are in my relationships. I don't apologize for wanting to have kids and get married and set a boundary that I won't get in another long-term romantic relationship with someone who doesn't want those things too.
All fall, I've been in a state of transition, wondering who I was going to be on the other side of this breakup. It feels so good to see my values and priorities all together on paper, and gives me a clarity and lightness I've been waiting for.
9 a.m. Meetings all day with my boss and co-workers.
4 p.m. Back in my hotel, I decide to masturbate again. Still no luck on squirting! I'm feeling turned on and inspired to fire up Tinder to try and find a last-minute date.
5 p.m. Finally hear back from M! But I'm with my boss and co-worker headed to dinner, so I have to be discreet in opening the text.
Good thing I sat in the back seat of the car, because he sends me a paragraph of smut that should be illegal it's so dirty. Give that guy a prompt and he goes wild! He lays out a detailed scene of teasing and denial featuring handcuffs that I can't wait to try with him.
8 p.m. No luck finding a Tinder date, so I take myself out for a drink and head home alone again.
DAY SIX
8 a.m. In transit back home, I'm reflecting on my breakup. My ex and I were good friends for several years before we dated. In a perfect world, I'd like to think we could be good friends again. We haven't talked since October, at my request, and I've been debating for months if and how to reach back out.
2 p.m. Feeling very distracted by M's text yesterday and hit him up to schedule a last-minute hookup before I head out of town again. He's extremely enthusiastic to hear from me.
3 p.m. Text my girlfriends to ask if it would be too much to give M a pair of my panties to go with his Santa card. They enthusiastically endorse the idea.
5 p.m. Family dinner for my brother's birthday. Poor guy, he just has to listen to my mom and I talk endlessly about the house.
DAY SEVEN
10 a.m. Totally slammed and starting to lose my mind at work. Juggling a number of last-minute questions from the contractors isn't helping.
6 p.m. Do my makeup in the office bathroom and head to M's place. Before going in, I tuck the card into the waistband of my lacy thong.
7 p.m. M loves the card and the panties. We play and fuck for a long time while I wear them. Then he pulls out and comes on them. It's probably the best sex we've ever had, and we both end the night blissed out.
8 p.m. I text B to see if he's around for a drink. I give him an update on M (who B likes to refer to as the "booty-hole chowhound") and let him know I'm thinking about reaching out to my ex. B reminds me to slow my roll and check back in with myself and my friends in another week or two. He's always right.
10 p.m. Head home with a sore pussy and a full heart, better than I've felt in months.
Want to submit a sex diary? Email sexdiaries@nymag.com and tell us a little about yourself.