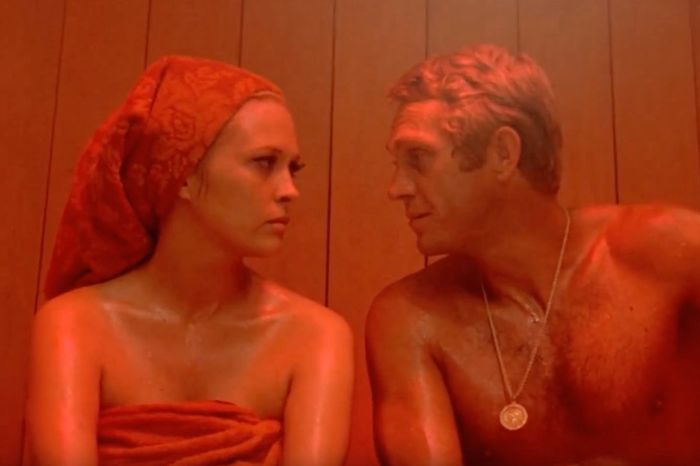 Faye Dunaway and Steve McQueen shvitzing in
The Thomas Crown Affair.
Photo: The Thomas Crown Affair/MGM
Shvitz is a Yiddish word that's both a verb and a noun — you can shvitz, as in sweat, or you can go to a shvitz, as in a bathhouse, of which New York has many both storied and brand new. Margaret Rhodes consulted a dozen experts and regulars on how to navigate the city's (and North Jersey's) baths, onsens, and 24-hour K-spas.
➽ New shvitzers should start with a day pass, ideally to a place with a standard menu of thermal soaking pools, cold plunge tubs, steam rooms, and dry saunas. There's the Wall Street Bath & Spa and the 128-year-old Russian & Turkish Baths in the East Village, which are the city's true banyas: The stone-and-wood rooms are bare-bones but clean. Wall Street has a grander lounge area, while the Russian & Turkish Baths draw a more diverse crowd, from NYU kids to old Slavic men to, at least recently, Owen Wilson. For a New Age atmosphere — with an Amit Greenberg mural and a flotation tank — go to Bathhouse in Williamsburg, which opened in November.
➽ Pack a swimsuit and an ID for locker rental. Most bathhouses provide towels, robes, clean shower sandals, and, if you're at a banya, a wool hat to protect your head from the heat. You'll need a swimsuit if you're heading to a venue with co-ed rooms and pools (this includes the Mermaid, SoJo, and Bathhouse, below). At King Spa & Sauna and K-Town Sauna, you'll go naked — policy prohibits any attire in their gender-segregated steam and treatment rooms.
➽ At the Russian & Turkish Baths, check the calendar for "Boris weeks" and "David weeks." Both owners have retired from East 10th Street, but their heirs continue to run the business on alternating weeks — an arrangement from the 1980s based on a mysterious feud. Bathers on Boris weeks use a paper punch card; those who go on David weeks use a digitized swipe pass and can often find a Groupon deal. Regulars say the rooms are significantly hotter on Boris weeks.
➽ For a more old-world Russian vibe, take the Q train. Brooklyn Banya and the Mermaid Spa, located in Kensington and Sea Gate, respectively, are filled with locals looking to get warm and catch up with friends — not so much for a lush afternoon at the spa. Mermaid, says one Russian regular, is cleaner and known for its food ("Salo is hard to find in New York, so eat that," he says).
➽ While you're there, try a platza. The Russian exfoliating treatment takes place in a 180-degree room, where you'll get smacked with a bundle of oak leaves (called a venik) and lathered up with soap. The oak leaves contain a natural astringent said to remove toxins from the skin; the thwacking boosts circulation.
➽ Spend eight hours at a Korean jjimjilbang. It's surprisingly easy to do. Traditional K-spas like Spa Castle in Queens and King Spa in Palisades Park, New Jersey (you'll need a car), are universes unto themselves with several floors and a buffet of saunas, such as a jade room (found at Spa Castle; the walls emit muscle-soothing calcium and magnesium). A regular at both calls Spa Castle more Disneyfied (LED saunas and rowdy bachelorette parties) and King Spa (which plays Korean soap operas on the TVs) more authentic.
➽ Wake up early for SoJo Spa Club, perhaps the handsomest (think lots of blond wood, landscaping) and cleanest of the K-spas. Located in Edgewater, New Jersey, SoJo runs shuttle buses from midtown. One frequent visitor says if you get there by 9 a.m., the place is fairly empty; he recommends the secret, extremely hot infrared sauna on the fifth floor.
➽ Or head to Koreatown at 2 a.m. Juvenex stays open 24 hours. Most graveyard-shift guests are travelers recuperating after red-eye flights.
➽ Tribeca is home to two of the city's most upscale bath options. The Shibui Spa in the Greenwich Hotel offers a Japanese onsen experience: A reconstructed Japanese farmhouse holds its pool and lounge area, and the menu includes 30-minute hinoki-mint and cherry-blossom soaking treatments. A couple of blocks over, there's AIRE Ancient Baths, where six thermal tubs (including the "flotarium," which has the density of the Dead Sea) are housed in a candlelit brick chamber and changing rooms are stocked with waffle robes and L'Occitane products.
➽ Nonbinary, queer, and trans shvitzers should head to Bushwick. The HotBox Mobile Sauna is a wood-burning Finnish sauna on wheels, currently parked next to popular bar the Narrows. Events include karaoke nights, when you can enjoy kombucha and beer during breaks from the heat, and it recently hosted Bed-Stuy's Dyke Soccer team for a postgame sweat.
➽ Try a new-generation gay bathhouse. Most historic gay bathhouses (like Man's Country and New St. Marks Baths) closed with the AIDS crisis, but the scene is undergoing a revival: Journalist Kevin Phinney says that, per gay chat rooms and apps, the sauna at East Side Club (which has private rooms) is a good bet for a hookup.
➽ And generally, don't just leave after bathing. Bathhouses are about community, and communities eat. Like the Mermaid Spa, Wall Street has gained a reputation for its Eastern European dishes ("The kharcho is absolutely out of this world," says Eater's Ryan Sutton). The all-day café at Williamsburg's Bathhouse serves borscht, plus salmon toast, beef tartare, and a funky Tempranillo.
*This article appears in the January 20, 2020, issue of New York Magazine. Subscribe Now!