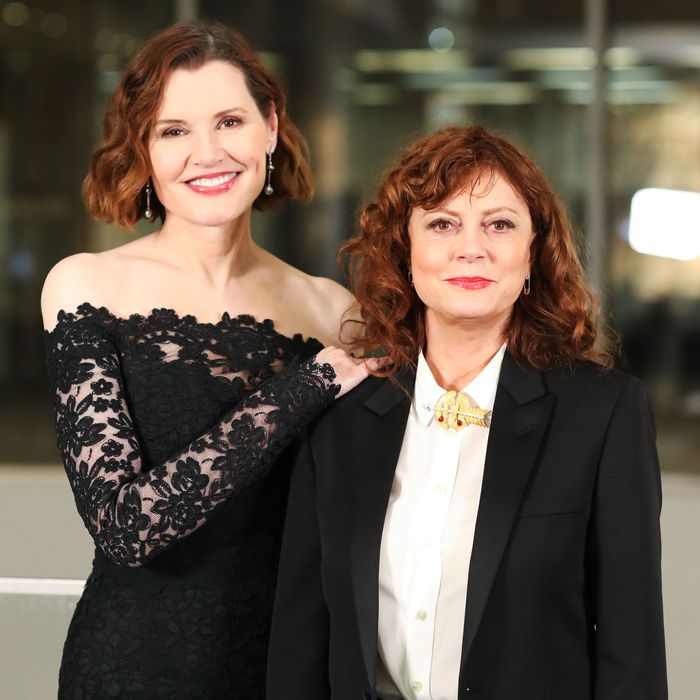 Geena Davis and Susan Sarandon attend a screening of
Thelma and Louise
.
Photo: Keith Tiner/BFA.com
When you think of Susan Sarandon, maybe you think of the puritan turned prurient Janet from The Rocky Horror Picture Show, or the waitress turned man murderer Louise of Thelma & Louise. Maybe you think of Marmee March in the other Little Women, or perhaps you just think about the ginger bombshell who voted for Jill Stein. But according to Sarandon, all she is onscreen recently is dead.
Last night, the Oscar-winning actress joined her Thelma & Louise co-star Geena Davis in New York for a screening of their seminal 1991 feminist film and a celebration of the 100th anniversary of women's suffrage, presented by Kering and Women in Motion. They were joined by notable celebs including Arianna Huffington, Christine Baranski, Candace Bushnell, and Padma Lakshmi.
During the screening, Sarandon and Davis kicked off their heels (literally), and sat down with the Cut to talk about life, love, and Sarandon's continued theatrical fates.
"At my age, all of my characters are dying, or killing themselves. I think I got the fourth script with a suicide in it the other day," said Sarandon. "I'm always dying! Or I help someone die. Or she's about to die, but she doesn't want anyone to know. Or any number of fatal illnesses."
Though both Davis and Sarandon did technically soar to their (probable) deaths in Thelma & Louise, they recalled how important the script felt when they read it for the first time — not because of the movie's catalyzing rape, but for the luxury of having two women in leading roles.
"When it came out, actually, people kind of missed the rape," said Sarandon. "Now you look at it and you're hip to what she's talking about, and that she's having this flashback of being assaulted. But I remember having to clarify that. When I read it, I was really impressed with how much fun it would be to have a woman partner. Usually you're the only woman in a movie. If there's more than one woman, then there's an older woman and a younger woman and they hate each other just for … you don't even know why."
Davis — who is quite Thelma-like in real life, letting Sarandon take the lead — agreed. She told the Cut, "I just became obsessed with the script. I was like, Ahhahaahahh, I have to be in this movie." Of course, there was also the perk of working opposite the very young, very toned, very shirtless Brad Pitt. Said Sarandon, "He's done alright. He turned out okay … Not just a pretty face."
As for what movies Davis and Sarandon would like to see or act in in the future, Davis stressed the need for greater diversity in film. And Sarandon, a true and forever romantic, talked about a desire for more love: "I'm all about love stories. Every film I've ever done I think of as a love story. So I really love stories that encourage people to take a step — maybe it's just telling the truth. Maybe it's a big step. Maybe it's going off a cliff."
When asked what advice she'd give to a recently heartbroken 21-year-old trying to figure out how to deal with shitty men in New York City, the romantic replied, "Listen to your gut because you know. As you go through, there's shitty men and shitty women, but you don't have to go there. I just wish I'd made my mistakes faster, but they're necessary. Just faster, but you need those mistakes, and you'll figure it out … And it'll make a great autobiography."
Said Thelma — er, Davis — "That's a good quote."
And speaking of love, this is exactly what Sarandon would like to be doing in movies. "Because I'm older, nobody can imagine a love story between anybody over 30… I actually welcome the opportunity to be reminded that you should live like you're leaving. So I don't mind [dying so much]. But I would like to just have sex and not die."