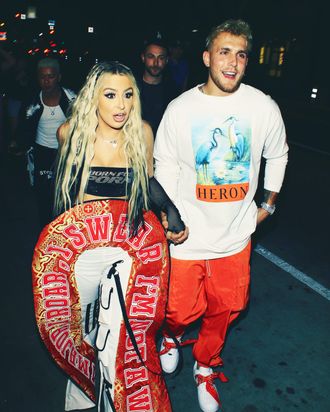 Tana Mongeau and Jake Paul.
Photo: Hollywood To You/Star Max/GC Images
Take a deep breath, because you're about to introduce your brain to information that will exhaust you mentally, emotionally, and perhaps even physically. As you may already know, we live on the same planet as two people involved in one of the most chaotic open relationships of all time: YouTubers Jake Paul, 22, and Tana Mongeau, 21. Well now, less than a year after they started Instagramming photos of themselves engaged in what looked like foreplay, they are taking a break — or so they say.
As you may recall, when the "celebrities" started "dating" in April of last year, many people suspected that their relationship was a sham. Then, they got engaged two months later; then, after another month, they got married in an unofficial ceremony that will go down in history as one of the most raucous of our time, all while maintaining their commitment to non-monogamy.
Over the past month or so, the chaos reached unprecedented heights. In early December, Refinery 29 reported that a brave individual had entered the YouTubers' relationship: Noah Cyrus, the 19-year-old sister of Miley Cyrus. On December 3, Mongeau posted a video to her YouTube channel titled, "i took my girlfriend's phone and flirted with my best friend. prank????," in which she can be seen sending messages from Cyrus's phone, pretending to be her.
The video came after months of speculation that Cyrus and Mongeau were dating: As early as September, when the two started appearing frequently on each other's social media channels, rumors started to swirl that they were more than just friends. Over time, the evidence mounted, culminating in a YouTube fan asking Mongeau "how good" Cyrus was in bed last month. Mongeau, not one for subtlety, responded, "very!" But by mid-December, Mongeau had shot the rumor down, telling Entertainment Tonight, "I literally just like to spend time with her and care about her."
And now, Mongeau and Paul's relationship appears to have reached its inevitable conclusion. On January 2, just days after Mongeau released a lengthy tell-all video in which she divulged the couple's marital woes, she announced on Instagram that she and Paul "are both are taking a break to focus on our own very crazy lives … i'll never know what the future holds and i will always love Jake and everything we did." Paul, too, took to Instagram to notify his fans that he and Mongeau were going their separate ways for now, writing, "we truly just need a second to focus on our own lives and ourselves. luv u mongeau <3."
Given that Mongeau seemed genuinely despondent in her confessional video, I think I'm convinced that this may be the true dissolution of their "marriage." She also jokes about getting "half of everything" in her breakup Instagram post, which sounds pretty final. But still, I cannot help but wonder if, yet again, this couple is beckoning me further and further into their disorienting universe of lies and deceptions, and I am, yet again, blindly following.
This post has been updated.