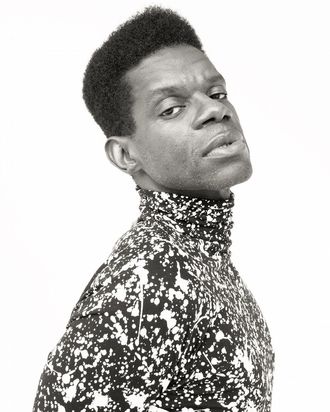 Victor Glemaud
Photo: Viki Forshee
It's hard to imagine feeling sad in a Victor Glemaud knit outfit. Like, if you were casting a movie, you would never put the character in a Victor Glemaud sweater in the sad climactic scene. Glemaud started his line in 2006, but relaunched it in 2015 with a super-simple edit of three sweaters. Since the relaunch, he's become much-loved for his colorful, body-conscious clothes. He dressed Jennifer Hudson for the Met Gala in 2016 and Pose star Dominique Jackson for the Met Gala in 2019. His Instagram shows off just how many celebrities wear Glemaud, including Selena Gomez, Beverly Johnson, and Florence Pugh. But the best brand ambassador is the designer himself. With his colorful wardrobe, which not-infrequently includes turquoise or fringed pants, he communicates that he's having fun, and you should too. We spoke with him about Crocs, faux fur, and A Black Lady Sketch Show.
How do you thank someone for a gift? I always send a handwritten note on my stationery.
What would you never wear? Crocs.
What's your dream vacation? Safari.
What's a good book on your coffee table right now? 100 Amazing Facts About the Negro by Henry Louis Gates — by flipping to any page you come upon an insightful inspired piece of history. Great for pre-dinner conversation.
Last show you binge-watched? A Black Ladies Sketch Show. The Basic Ball and Bad Bitch Support Group are truly must-see TV. Beyond obsessed!
Secret to hosting a good party? Waitstaff.
What is a trend that you like right now? Animal prints.
One you don't understand? Faux fur! Plastic is terrible for the environment, plus it looks cheap.
Favorite restaurant in New York? King.
Shoes you wear most often? In the winter Hermès boots, and during summer Nikes.
What's your favorite … 
Pajamas? I sleep naked.
Candle? House of 40 Gratitude and Compassion scents are airy yet long-lasting.
Scent? Jao's Jasmine Inscental.
Socks? Pilates socks from Amazon. Falke and Turnbull are year-round faves.
T-shirt? Plain Comme des Garçons under my VG knits.
Can you share a photo that defines your style? Color-a-go-go!
Shop the Story
If you buy something through our links, New York may earn an affiliate commission.