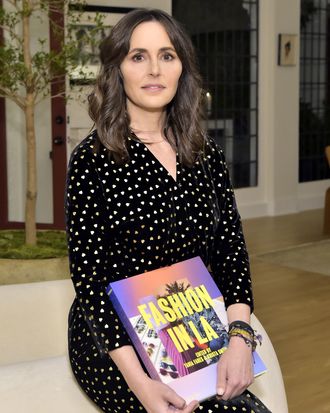 Tania Fares.
Photo: Courtesy of Tania Fares
Tania Fares loves fresh faces in fashion — possibly more than anyone in the industry. She founded Britain's Fashion Trust, a charitable arm of the British Fashion Council that gives grant money to emerging designers. Past winners have included Erdem, Mother of Pearl, and Christopher Kane. Since she founded the trust 11 years ago, it's expanded to include the Fashion Trust Arabia, and a U.S. arm of the prize is in the works. Just to give you an idea of the people Fares has in her corner, the most recent Fashion Trust Arabia judging panel included Naomi Campbell, Thom Browne, and Marc Jacobs.
Fares recently co-wrote a book about 41 designers in Los Angeles, not normally thought of as a major fashion city, called Fashion in L.A. She splits her time between Los Angeles, Beirut, Paris, and London (her closet in London, for the record, is an entire floor). We spoke with her about flatforms, the secret to hosting a good party, and backless dresses.
How do you thank someone for a gift? I love writing a nice letter to thank someone.
What would you never wear? I would never wear a completely backless dress.
What's your dream vacation? My favorite kind of holidays are those where I can really unwind, like at a health retreat in a spa resort.
What's a good book on your coffee table right now? The Greater Freedom by Alya Mooro.
Last show you binge-watched? When They See Us on Netflix.
Secret to hosting a good party? I would say mixing people from different backgrounds is the key to a good party. There's nothing better than bringing together a group of diverse backgrounds, from architects to fashion designers to bankers to filmmakers. It makes an evening well-rounded and diverse, not to mention creating stimulating party conversation.
What is a trend that you like right now? I always like patterns, but lately I've been into checks. I love suits, so I particularly have been liking suits in a checkered pattern.
One you don't understand? I think every trend has its place in the industry, and they're meant to come and go, even if you don't understand it at first.
Favorite restaurant in New York? I don't have a favorite in New York because I'm always visiting and exploring new places every time. But since L.A. has recently become home, I would say my favorite restaurant there is Sushi Park. The delicious joint is in a casual strip mall, and you will not find a better sushi place in town.
Shoes you wear most often? My flatform wedges from Miu Miu. They are so comfortable and practical, I have them in every color and in every closet.
What's your favorite … 
Pajamas? Olivia von Halle pajamas.
Candle? Fornasetti Candles.
Scent? My perfume, Lorenzo Villoresi's Teint de Neige. 
Socks? Falke and only Falke.
T-shirt? I recently got an amazing T-shirt from the sustainable brand Pangaia. It's made out of lightweight saltwater seaweed fiber. It's incredible to see such alternative materials being used.
What is a photo that defines your style?
This picture is from the recent Fashion Awards in London. I wore Hussein Bazaza, who was a finalist in the eveningwear category last year for Fashion Trust Arabia's inaugural edition. I love his work. In this gown particularly I love the simplicity of the look and the delicate and elaborate details in the embroidery. I'm also carrying a bag by Sabry Marouf, the Egyptian duo who were winners in the handbags category last year during Fashion Trust Arabia's 2020 inaugural ceremony. The full look really defines my style because it is simple combined with unique details.
What's your favorite place in your office/studio/home?
This picture is from a Marie Claire Arabia shoot I did last year. It was shot at my home office in Lebanon. I love this space because I feel very inspired when I'm home, surrounded by mountains and green fields. It's a different feeling than when I'm home in London or L.A. — the quiet and nature surrounding gives me focus. I love this part of my home office where I can catch up on reading, whether it's on architecture, art, fashion, or photography, and get inspired for future articles.
Shop the Story
If you buy something through our links, New York may earn an affiliate commission.