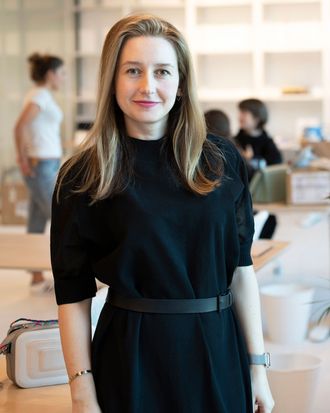 Photo: Courtesy of Mlouye
Take it from someone who knows: Once you have a Mlouye bag, you'll never hear the end of it. I've been stopped on the subway and in the middle of interviews by strangers who ask where I got my black Pandora bag. I direct them to the small handbag brand, which is pronounced MUH-loy.
As you might guess from the distinctly architectural style of each of the bags, designer and founder Meb Rure used to be an industrial designer before founding Mlouye in 2015. She's inspired by Bauhaus designers — especially Alvar Aalto, Wassily Kandinsky, and Mies van der Rohe. As a result, her bags look like little sculptures. There's one shaped like a lantern, one that opens like a dollhouse, and a whole set that looks kind of like the wavy Ettore Sottsass mirror, but a bag. We spoke with Rure about her favorite trends, trench coats, and Patagonia.
How do you thank someone for a gift?
Kiss kiss, hug hug.
What would you never wear? 
Skinny jeans.
What's your dream vacation?
Traveling in Patagonia alone.
What's a good book on your coffee table right now?
I have Spectrum by John Pawson. Also Beaches and Escape by Gray Malin right now.
Last show you binge-watched?
Dark on Netflix.
Secret to hosting a good party?
Be the craziest person at your own party.
What is a trend that you like right now?
Square toes and micro bags.
One you don't understand?
Ballet flats.
Favorite restaurant in New York?
The NoMad Restaurant.
Shoes you wear most often?
Prada Cloudbust sneakers.
What's your favorite…
Pajamas?
My old T-shirts.
Candle?
Diptyque Figue.
Scent?
Diptyque Philosykos.
Socks?
Muji socks.
T-shirt?
My Pangaia "Earth Day, Every Day" T-shirt.
What are three photos that define your style?
Trench coats are in lead role. In addition to their practicality they make me feel secure, confident, and sexy at the same time.
Shop the Story
Available in sizes XS–XXL.
If you buy something through our links, New York may earn an affiliate commission.