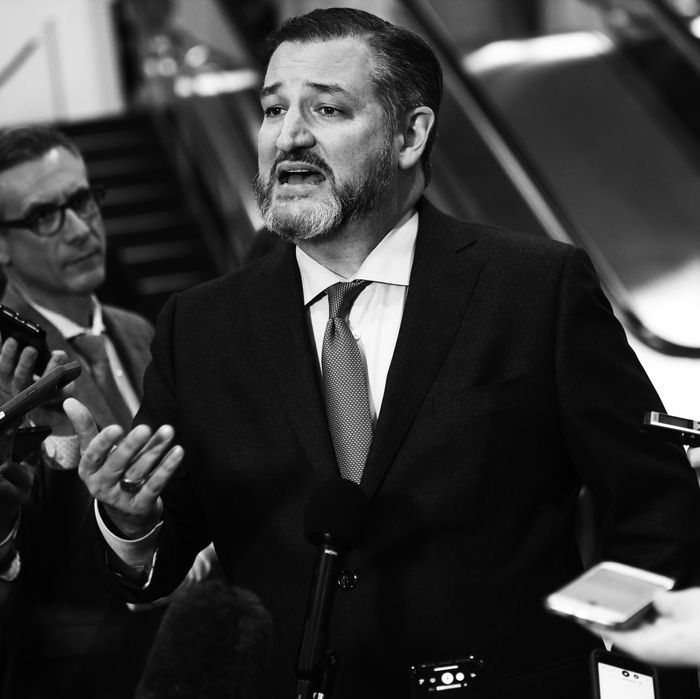 Abs desp to bang.
Photo: Alex Wong/Getty Images
Tuesday was the first full day of the Senate's impeachment trial of President Donald Trump. Much of the day was spent in a stalemate, with senators debating rules put forth by Majority Leader Mitch McConnell. Democrats proposed 11 amendments that would allow them to subpoena individuals and documents related to the inquiry, all of which were voted down by Republicans. There was also some question, here at least, as to whether milk was permitted on the floor of the Senate. Meanwhile, Ted Cruz, the Republican senator from Texas, wanted to talk about one thing, and one thing only:
Banging!!!!!!!
Talking to reporters on Tuesday evening, Cruz — who has a beard now, as you'll recall — accused Democrats of using this impeachment trial to "lecture the American people and attack the president." He then added, with a grin:
"But, you know, there's an old saying that if you have the facts, you bang the facts. If you have the law, you bang the law. If you don't have either, you bang the table. Well, this afternoon we've seen a whole lot of table banging."
Cruz was so pleased with his comments, that he tweeted a video of them later.
The Texas senator used this same banging line last January, during the government shutdown. After Colorado senator and current Democratic presidential candidate Michael Bennet accused Cruz of crying "crocodile tears," Cruz said that same thing about banging (facts, laws, tables, etc.) saying that its an "an old saying among Texas trial lawyers."
Though he has accused the Democrats of table-banging, Cruz did not clarify whether he himself was banging facts, laws, or the like button on a pornographic tweet.