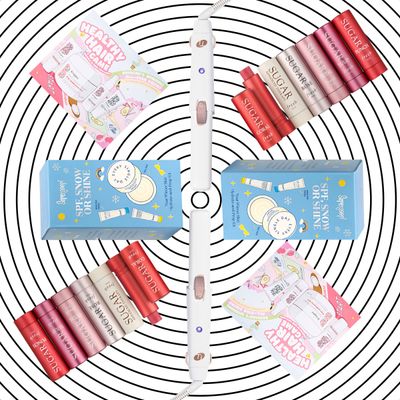 Photo: Courtesy of the Retailers
January means New Year's resolutions, crowded fast-casual salad restaurants, and a flood of sales. There's a lot of great beauty buys on sale right now at places like Nordstrom, Net-a-Porter, Dermstore, and even Amazon, from lipsticks to hair care to skin-care kits. Read on for our edit of what to buy from the post-holiday sale bounty.
The AOC-Approved Lipstick
Alexandria Ocasio-Cortez has said this is her favorite lipstick. It can survive cocktails, dinners, and political rallies, and now it's on sale in moody shades that speak to the holiday-season comedown we're all currently experiencing. Personally, I'm looking forward to painting on this pretty terra-cotta, which won't rub off on the various half-full mugs I'm amassing both at my desk and in my room. – E.S.
The Unsexy Yet Totally Effective Moisturizer
It isn't the sexiest moisturizer, but ten out of ten dermatologists recommend this thick cream. If your skin is dry from retinoid, Accutane, or just plain life, this really works, thanks to a rich mix of ceramides and lipids. Plus it's fragrance-free and on sale. – Kathleen Hou
The Stick That Freezes Eye Bags
My body is still reeling from subsisting on salt and sugar during the last two weeks of the decade, and my eyes are still readjusting to the bright computer screens mixed with brighter overhead office lighting. Nothing sounds less appealing than putting an actual cube of ice on my face for relief. This cute portable stick gets the under-eye area to chill out without making you chilly. – Erica Smith
The Luxurious Liquid Lipstick
In my ongoing quest to wear more lip color, I have found a safe space in the silky texture of this liquid lipstick, which I usually wear in its nude shade (baby steps). I'm also a sucker for anything mini, so upon spotting this smaller incarnation of my beloved nude side by side with a classic red and a very wearable muted rose, my lips say yes. – J.L.
A Buffet of Lip Balms
Maybe getting six lip balms at a time seems excessive. But not if you do the math. One will fall onto the street, balm-side down, because life is cruel. You'll lose one when it disappears into the mysterious hole where socks and Tupperware lids seem to go. You'll give one to a friend to borrow and they'll "forget" to give it back. Two will escape from your jacket pocket or bag. And then you'll only have one left. Really, better to buy in bulk. – K.H.
The Bath-Oil Sampler
Admittedly, I've never been a big aromatherapy zealot. At least, not the kind who mixes pure oils together in her kitchen or bathroom. On the other hand, give me a sampler of different scented oils that are made to use in the bath, and I say, "Bring 'em in!" – J.L.
The Clean and Fancy Lipstick
Even if this lipstick weren't "clean," it would be good. It goes on super-smoothly, doesn't dry out your lips, and the color is a rich wine — maybe like a Tignanello (a wine I only know about because of Meghan Markle)? I know nothing about wine, but I know that wine looks great on and in your lips. – K.H.
The Flatiron for Shiv Hair
I've recently gotten the Shiv haircut (as in, the feisty only daughter on HBO's Succession), and there's only one downside: My hair now has a tendency to flip out in the morning (literally, not figuratively). As a result, I have become that person who runs a flatiron through her hair every single morning. I've got a few trips coming up, so I'd like to also be that person who has everything in her travel bag. – J.L.
The Curly Hair All-Star Kit
One of my New Year's resolutions — maybe my only one? — is to be a helicopter parent to my curls for as long as humanly possible. This kit from the luxury hair-care brand Briogeo is making it so easy that I may actually stick to my resolution past February. It sets you up for success with four best-sellers that gently nourish and smell amazing, from the milky leave-in conditioner to the silky deep-conditioning mask. – E.S.
The Skin-Routine Kit
I just watched a video in which a Riverdale actress details her 38-step routine. Even if it takes two hours in the morning, she'll "do it," she says. If 38 steps seems a bit excessive, why not start with just four? This very easy Kiehl's kit includes a face wash, eye cream, and two moisturizers for a simple four-step skin-care routine. - K.H.
The Beauty Tool That Shaves … Your Face
This is the year that I'm shaving my facial hair off. Fine, "microblading" it off. Maybe that layer of peach fuzz has always been there, spread out from my lower cheekbones to my jawline, but suddenly, it's taunting me every time I look in a well-lit or magnified mirror. So, steps will be taken. This kit will help with that — the Dermaflash is a painless tool that gently vibrates to remove peach fuzz and dead skin from your face (bonus). And yes, it's been clinically proven that your hair won't grow back darker or denser. – J.L.
The Sunscreen Everyone Needs
When it comes to sunscreen, don't be a literal fair-weather fan — you need it in January, too. This set features three best-sellers (including the magical, weightless, silky-smooth Unseen Sunscreen) that all have such a lovely texture, you'll have no choice but to stick to your daily SPF routine, even if it's deceptively gray and frigid outside. – E.S.
If you buy something through our links, New York may earn an affiliate commission.