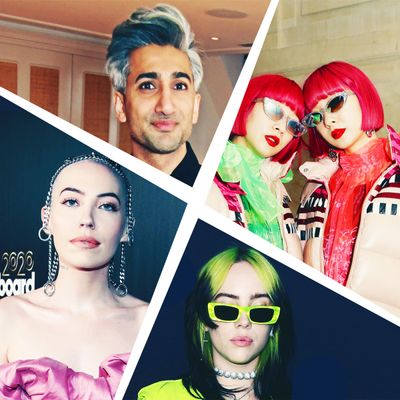 It's getting close to New York Fashion Week, and the outfits are revving up for the occasion. Taylor Swift channelled her inner Nancy Drew (or is it Sherlock Holmes?) in head-to-toe plaid. Bishop Briggs proved that she doesn't need a head full of hair to showcase a striking headpiece. And Billie Eilish established that her signature lime-green locks pair best with an ensemble in the same hue. Who wore the best look? Scroll to see everyone, below.
Most Likely to Solve a Mystery: Taylor Swift
At the 2020 Sundance Film Festival - Miss Americana Premiere.
Best Chandelier Impression: Kolton Krouse
At the Avenue Magazine Relaunch Party.
Most Likely to Be Noticed: Billie Eilish
At the Spotify Best New Artist 2020 Party.
Best Complimentary Colors: Amiaya
At the breakfast at the Musée National Picasso in celebration of 1 Moncler Pierpaolo Piccioli collection launch.
Most Touchable Textured Dress: Dee Poku
At the Bergdorf Goodman x Women: Inspiration and Enterprise Dinner.
The Patterns Most Likely to Impress Gwyneth Paltrow: Elise Loehnen
At the Goop Lab Special Screening at Metrograph.
Best Bell Sleeves: Karleen Roy
At Grit Before the Gram — A Soundtrack to Our Solidarity.
Most Subtle Jumpsuit: Tan France
At the launch of Alexa Chung and Tan France's new Netflix x Net-a-Porter series Next in Fashion.
Most Futuristic: Legendary Damon
At the Morrison Hotel Gallery + Equinox Presents Music's (Second) Biggest Night at Sunset Marquis Hotel.
The Suit That You Could Wear to Bed: Alyson Stoner
At the 4th annual Create & Cultivate 100 List Launch Party 2020, in partnership with Chevrolet.
Best Headgear: Bishop Briggs
At the 2020 Billboard Power List for the 62nd Annual Grammy Awards.