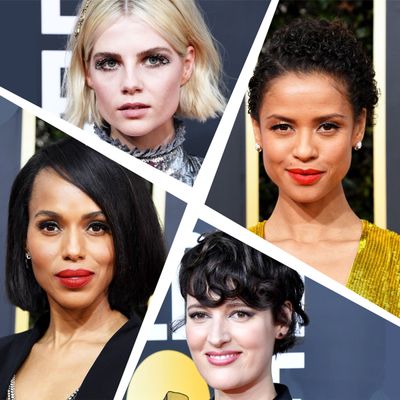 The Golden Globes is always the "fun" awards show — the one where the celebrities actually get to eat and drink as they listen to speeches, try to gossip off-camera, and wonder what Obama really thought of season one of Fleabag, all while wearing sparkly things on their bodies and faces. Here are some of the best beauty looks of the night, starting with sparkle on Ansel Elgort (is he using Glossier?). Read on for a great lipstick choice by Kerry Washington, a nicely grown-out bowl cut by Charlize Theron, a spunky good-hair moment by Phoebe Waller-Bridge, and more.
Best Inner-Eye Highlight
Never underestimate the attention-getting powers of a little shimmery shadow on the inner corner of both eyes as demonstrated by selfie-master Ansel Elgort.
Best Hair
Phoebe Waller-Bridge delivered a passionate monologue in season two of Fleabag about the importance of hair. This curly, swoopy chop proves that she really believes it is "everything." Her hair was done by Dennis Gots using Goldwell and VARIS.
Still the Best Bowl Cut
And here we have Charlize Theron's bowl cut all dressed up for the red carpet. Glad it's still doing so well.
Best Reminder That You Can't Go Wrong With a Red Lip


Kerry Washington's red lip goes with everything: a bob, a sparkly eye, and even a boob-baring harness.
Chunkiest Chunky Headband


Impressive girthy headbands took over toward the end of last year, and now Beanie Feldstein has made them red-carpet official.
Best Overall Eye Situation


Looks like Lucy Boynton, Lucy Boynton's makeup artist Jo Baker, and Lucy Boynton's eyes are back at it again, ready to create another reason of unexpected, never-boring makeup looks worthy of a "save" in Instagram. Baker worked with Chanel Beauty to create this design.
Best Roots
Margot Robbie demonstrates that there's nothing wrong with going a little too long between colorist's appointments.
Best Skin


But really, why does Jodie Comer's skin continue to glow?
Best Juice
Orange you glad that Gugu Mbatha-Raw (who worked with makeup artist Nick Barose, using Armani Beauty) wore this unexpected, cheery shade of orange-red lipstick?
Coziest Ear Scarves


If your face-framing tendrils start to bother you, follow Ana de Armas's lead and pull them back to keep your ears nice and cozy. Stylist Mara Roszak hit them with some Leonor Greyl Laque Souple hairspray to keep them in place.
Best Ode to 2019


Lorene Scafaria wore two of last year's most popular nostalgic accessories: a nice set of bangs in front and a hair ribbon in the back.
Best Case for Sticking New Things in Your Hair in 2020
When you want to stick sparkly things in your hair, but don't want one side of your head to be jealous of the other.
Most Worthy of Being Turned Into an Instagram Filter


Saoirse Ronan's rose-tinged eye makeup is perfectly blended and brings out her blue eyes, without looking anything like pink eye.
Best Male Hair
You know how every so often at Fashion Week, they say the big trend is side parts and straight hair and everyone's like, "That's not reallly a trend." Well, maybe it's not really, but the smooth, sleek hair of Pierce Brosnan's son Dylan does make you want it to be true.
Best Updo


Updos can be a little old-fashioned, but Gillian Anderson's looks polished without being musty. This is loose and pretty, with a style designed by Kylee Heath.
Best Blunt Bob


If Zoey Deutch's near-perfect bob doesn't make you want to grow your summer bowl cut back into a bob, we don't know what will.
Best Additional Reminder That You Can't Go Wrong With a Red Lip
Zoë Kravitz's lips look extra pillowy and almost velvety, thanks to a patted-on coating of two YSL Beauty lip colors. Nina Park used Tatouage Couture Liquid Matte Lip Stain in No. 8 and No. 12.