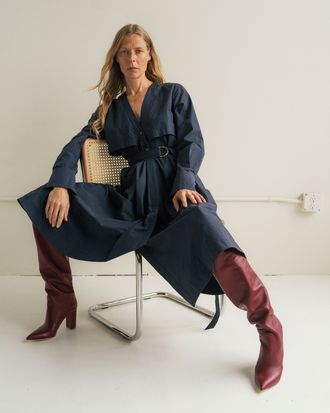 The concept of scanning a code to see where the cotton in your T-shirt came from has been around for a while. The Guardian wrote about it in 2014, and H&M has a program that will show you some information about some clothes, the problem being that the company makes so much clothing it's hard to track it all. But the first luxury brand that I know of to fully roll out this technology is the new label Another Tomorrow, founded by Vanessa Barboni Hallik, a former banker, and Jane Chung, creator of DKNY.
The brand launched yesterday, with a collection of staples like a white Oxford shirt made of cotton poplin that already feels broken in, crisp trench dresses, and coats made from Tasmanian wool harvested in the spring. I know that about the wool because I scanned the QR code (just by opening my phone camera, who knew it was so easy?). Since each product has a different landing page, not everything is listed on the site, but here's a sample from a coat.
Another Tomorrow partnered with the software company Evrythng to create the system. Barboni Hallik said, "The technology was straightforward to implement once we did the work of setting up our database of provenance information, and it has quickly become critical business infrastructure for us."
But as any sustainable brand knows, it doesn't matter how good the story is if the clothes don't hold up. Another Tomorrow's clothes are totally refined — a set of classic styles that you could choose to wear for decades without feeling out of style. Yes, they are expensive (a cotton button-down is $290 and a wool coat is $1,100). But surely there are lots of clothes out there that cost that much — you just don't know where they come from.