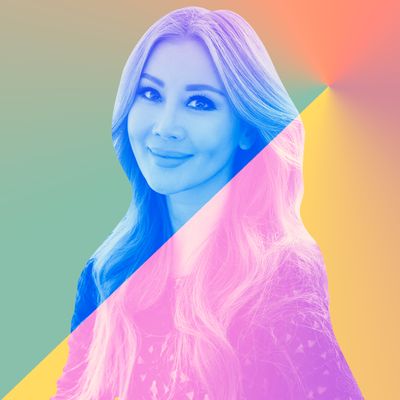 Photo: Courtesy of Stephanie Yang Photography
Toni Ko grew up in makeup. After her family moved from Korea to Los Angeles, her parents dove into the beauty-supply business, then became wholesale distributors. Ko loved makeup, but the brands she gravitated toward were always out of reach.
"The brands my family was selling were the cheaper brands, not the M.A.Cs or the Chanels — they were so elegant and high performance, but I couldn't afford that stuff," she says, laughing. "I was a 25-year-old living with my parents who didn't pay me for working with them. I got an allowance."
Armed with what she'd learned from the family business, Ko began forming a brand in her mind. That brand would become NYX.
"Back in the '90s, all the mass brands looked really gaudy and screamed drugstore. I stripped all of that, made the packaging black with a simple white logo, and it was super chic," says Ko. "I knew a guy in New Jersey who made pencils, so that's where I started. Six eyeliners and 12 lip liners, priced at $1.99. They sold out in less than 30 days."
By the end of her first year, her brand had made $2 million. Ko was prescient about stuff other than chic, affordable makeup. Even before the influencer era really kicked off, she shared her products with beauty bloggers, who shared them with the world. In 2014, she sold her 15-year-old brand to L'Oréal for $500 million.
But Ko wasn't exactly done. She launched an affordable sunglasses brand ($19 a pair!) called Thomas James LA, she invested in Sloomoo slime, and, last fall, she founded Bespoke Beauty Brands, an incubator to help influencers build niche brands. First up: KimChi Chic Beauty, a makeup line she built with performer Kim Chi (née Sang-Young Shin), who gained acclaim on season eight of RuPaul's Drag Race.
"We partner with influencers and celebrities, but they could be designers or entrepreneurs," says Ko. "People who have a passion in the beauty industry, then we create a beautiful brand around their lifestyle. We plan to launch one to two brands every year."
Got an idea you would like to pitch Ms. Ko? "Be prepared, be on time. That should be a given, but you'd be surprised how many people are not," she says. "Also, 100 percent is not enough. You need to come with 120 percent. I'm actually very fair, though. I want everyone to come out a winner."
Ko spoke with the Cut about her favorite products, her classic uniform, and where she thinks beauty is headed in 2020.
What's your definition of beauty? If I could answer with a name, it would be Audrey Hepburn. If I could answer with a continent, it would be Africa. If I could answer with an island, it would be Bali. My definition of beauty is classy, serene, and tranquil.
What do you think of when you hear the term "clean beauty"? Was it dirty before?
Where, if anywhere, in your beauty (or life) routine are you not quite "clean," "green," or "sustainable"? To-go boxes for food and delivery packages. I have way too many Amazon orders and order too much off Uber Eats.
Fill in the blank as it pertains to something connected to your beauty or wellness routine: I think about  _______ a lot. My diet.
What is the opposite of "beautiful"? Selfishness.
What is your morning skin-care routine? I shower and wash my hair almost every morning. After that, I move on to my full skin-care routine: La Mer the Tonic and the Revitalizing Hydrating Serum, Shiseido eye cream, and La Mer moisturizer, followed by makeup. I actually don't wear sunscreen.
What's the last beauty product you use every night? Malin+Goetz hand cream and foot cream.
Facial cleanser of choice: Dove soap.
Fragrance of choice: Acqua di Gio or Persian Rose by Pacifica.
Scented candle of choice: Jo Malone Pomegranate Noir.
Bath or shower? Both. For bath, anything with lavender, and for a shower, I use Dove soap to wash my body.
What aspect of your beauty routine tends to be neglected? Manicures and pedicures. I hate wasting time getting my nails done. Of course I keep them clean, but they're not immaculate.
How often do you really clean your makeup brushes? Not often enough …
What, if anything, is usually on your lips? KimChi Chic Beauty's High Key Gloss in Natural.
What shade, if any, is usually on your toes and/or hands? An Essie light pink or light nude.
What makeup item would you never skip? NYX Professional Makeup Auto Eyebrow Pencil.
What beauty product still needs to be invented? SO MANY! Nail polish that dries instantly and stays on for two weeks. Eyebrow serum that really grows overplucked eyebrows. False lashes that are truly permanent without damaging your own. How about Botox that can last at least a year? I can go on and on and on …
What was your first beauty-product obsession? Black eyeliner. I was 15 years old when I started to wear makeup, and I was mesmerized by eyes lined with black eyeliner. I remember Audrey Hepburn's winged liner from Breakfast at Tiffany's and Elizabeth Taylor's as Cleopatra.
What do you splurge on? Shoes.
What do you scrimp on? Paper towels and napkins. Pretty much anything disposable.
What is your classic uniform? Alexander McQueen or Balmain leather jacket and a tulle skirt that I buy on Amazon.
Whose shoes are you usually wearing? Alexander McQueen, Chanel, Valentino, or Philipp Plein.
Current favorite fashion item in your closet: I'm obsessed with Fendi lately.
What do you own too many of? Socks. And I don't even wear socks often!
What color is your usual fashion pop of color? Red or green.
If you were a makeup shade, what shade would that be? Red lipstick.
If you were a fragrance, what would that fragrance smell like? Roses.
What is your own personal definition of misery? Doing the same thing every day. Or not having a goal in life.
What is your own personal definition of glee? Setting goals and hitting them.
What would the name of your autobiography be? Believe It or Not.
Who would star as you in the film adaptation? I wish it would be Angelina Jolie, but I'm Asian, so that wouldn't make any sense at all!
What do you think Pantone's color of 2020 should have been, and why? Bright yellow. Yellow is a happy color. With so much negative news, can we at least have a happy color?
What do you most often disagree with others about? Religion.
What can't you leave alone? A pimple.
Favorite CBD product: Anything by Sagely.
What calms you down? Hot tea at night.
Comfort food: Fried chicken.
Most impressive dish you make: I can boil water like a pro.
What food would you never eat? Lamb, goat, duck, or any wild game meat.
Favorite smell? The smell of earth after the rain.
Least favorite smell? Mold or mildew.
What do you foresee as the top beauty trends for 2020? Less contour and more natural beauty. VSCO girls are in. The overdone makeup look had a good run, and the new generation is tired of too much makeup.
What product do you believe is misunderstood and should be a best seller? Soap! Pain old bars of soap. Especially Dove soaps. First of all, we waste too much plastic with bodywash in a plastic container. Just that one switch, from bodywash to a bar of soap, would greatly reduce plastic waste. Second, Dove soaps are made with one-third moisturizer, so they don't dry out your skin as much. There are daily items that must be in liquid form, so we need the plastic containers, but soap isn't one of them.
What product is currently your favorite (understanding that this could change all the time)? Castor oil. I've been losing so much hair lately, and massaging castor oil into my scalp has helped me greatly with hair loss. My hair is healthier (with "er" as the key point), and I definitely see more growth. However, you must mix castor oil with a carrier oil, such as coconut oil (two-thirds castor oil to one-third carrier-oil ratio), before applying it, and this is not for the hair follicles but for the scalp.
If you won the Powerball tomorrow, what are the first five things you would do (after, of course, donating the majority of it to your top charities …)? Invest in real estate.
Okay, that's one, but we get it. Not to get too philosophical, but … what do you want? World peace. What else?