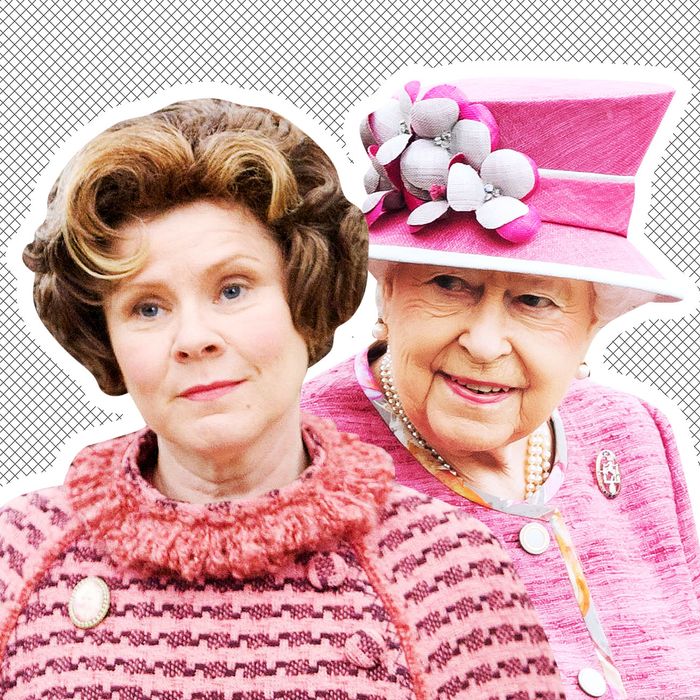 Photo: Everett Collection, Getty Images
You know how there are some actors whose iconic roles transcend their celebrity? It's kind of a subjective thing, the celebrity-character association, and it's largely dependent on your age and maybe your taste in movies. For instance, Johnny Depp, to me, is and always will be Captain Jack Sparrow; Rachel McAdams is seared onto my brain as Regina George; and Liam Neeson will always just be a more murder-y Liam Neeson in Taken.
So when it was announced today that Imelda Staunton has been cast as Queen Elizabeth II for the fifth and final season of The Crown, my broken brain buckled under the information. Dolores Umbridge as Queen Elizabeth? It's the kind of universe cross-pollination that can take a moment to absorb. (I mean, can you watch Alan Rickman in Love Actually without creating a meta-commentary of Snape's life as a muggle? Truly?)
Staunton will be taking over the role from Olivia Colman, and according to showrunner Peter Morgan, bring the show "into the 21st century," meaning the series will likely end shortly after Princess Diana's death in 1997. And while I'm not saying I can't picture Staunton as the queen, it will definitely be jarring, at first, to watch someone I know best as a despotic Defense Against the Dark Arts teacher gracefully navigate the vagaries of the modern-day British monarchy and the tabloid press. Now all I need is for Meghan Markle to play herself in a spinoff of The Crown.