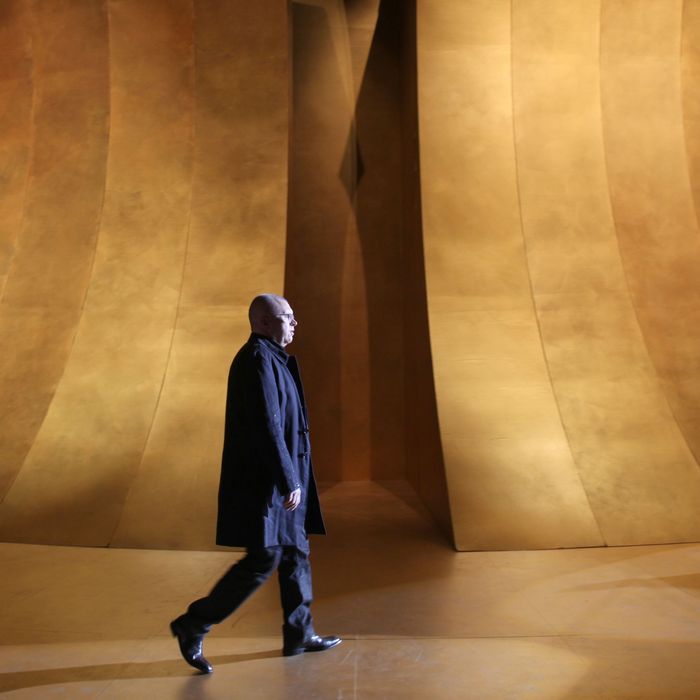 Ed Filipowski at Marc Jacobs's spring 2011 show.
Photo: Patrick McMullan/Patrick McMullan via Getty Image
Influential publicist Ed Filipowski, who orchestrated some of the biggest moments in the last 30 years of American fashion, passed away Friday morning after complications from a recent surgery. He was 58.
Filipowski was the co-chairman and chief strategist of PR powerhouse KCD, where he worked with clients ranging from Tom Ford to Helmut Lang to Donatella Versace to John Galliano. He was beloved within the fashion world for his kindness and enthusiasm, and regarded by many as a mentor.
KCD released a statement on Friday that read, "Ed led the global agency for over 30 years and leaves a legacy as a champion of the fashion industry with his unbridled optimism and spirit." Filipowski joined the company (then known as Keeble, Cavaco, and Duka) in 1984, landing the job — according to legend — after he congratulated co-founder Kezia Keeble for signing trendy boutique Charivari by sending her a Charivari bag full of flowers. In 1990, he and his longtime business partner, Julie Mannion, took over the firm following the deaths of Keeble and another founder, John Duka, and they became official partners the following year.
Filipowski's influence was felt on everything from Stephen Sprouse's first show in 1984 to the moment in 1995 when Gianni Versace's clothes appeared on the cover of Time magazine — not a traditional landing place for a fashion collection. And he presided over major changes within fashion. In Business of Fashion, Lauren Sherman wrote that he "supported the industry's transformation from a loose network of independently run brands into a global business driven by multinational conglomerates." He was a confidante to major talent including Ford and Galliano, and a star-maker for young designers like Alexander Wang and Brandon Maxwell.
But he was perhaps best remembered as a true gentleman. The Cut's Stella Bugbee said, "I'll always be grateful to Ed and his team at KCD for helping me relaunch the Cut back in 2012. He was as sensitive to journalism as you can get in this industry and he didn't steer me wrong."
In Vogue, Anna Wintour wrote, "Anyone who ever had the privilege of working with Ed knew he was far more than a particularly brilliant public relations executive. Thanks to his terrific sense of loyalty, he was always able to make kindness and respect central to every single thing he did. Ed became godfather to so many designers over the years, from the great and the good to those who were just starting out — he did so much for our fashion funders — and he treated each and every one of them the same way; totally supportive and unflinchingly honest."
On Instagram, Victoria Beckham wrote: "This is heartbreaking. So deeply saddened to hear that Ed Filipowski passed away today. He was the kindest man and an incredible force in the industry. I am so lucky he was an integral part of my extended VB team family for many years. RIP Ed. I will miss you."
Tom Ford told WWD, "Ed had so many wonderful qualities: He was funny, self-deprecating, quick-witted, fiercely loyal, and also very dedicated to his work, and more importantly to those that he worked with. I remember his strength when John and then Kezia died and most vividly his commitment to Donatella when Gianni was killed. Our friendship deepened during our years together at Gucci and Yves St. Laurent, and there were periods we spoke or saw each other every day. I adored Ed. He was brilliant at his job and even more brilliant as a friend. He was loyal and honest and sincere in a world where those traits are not always valued. I am deeply sad and heartbroken."
Elle editor-in-chief Nina Garcia tweeted, "RIP Ed Filipowski, a class act in a difficult industry. Always generous supportive and loyal. I will never forget how supportive he was with every step of my career. In the good moments and in the not so great ones."
Prabal Gurung told BoF that Filipowski supported his collection pro bono when he was a broke young designer living on unemployment. On Twitter, he wrote, "Absolutely devastated to have learnt of Ed Filipowski's sudden passing. He was my mentor, my confidant, my friend, and a believer in my dreams and my vision from day one. When I launched my brand in 2009 with no money or funding, he was one of the first few who came on board."
And Donatella Versace told WWD, "I'm so saddened by the news of Ed's passing. For Gianni and myself, Ed was first of all a close friend and part of our family. Having had the chance to work with him was a pleasure, but getting to know the person was a privilege. May he Rest In Peace."