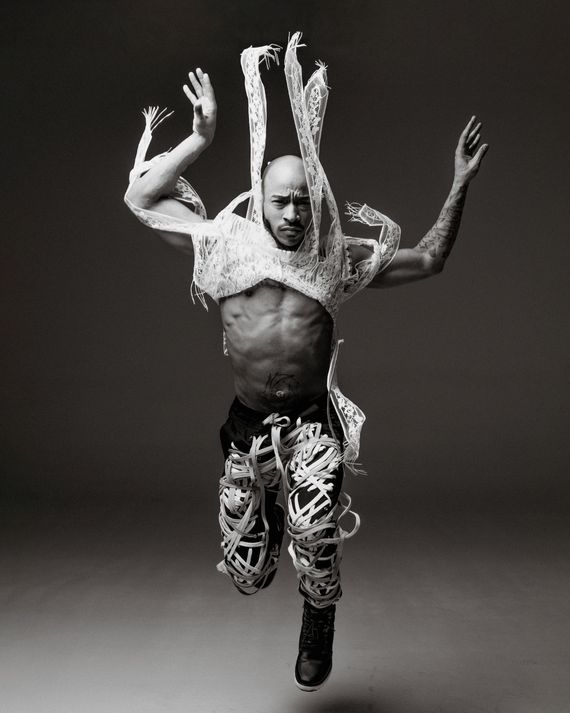 Pony Zion is electric when he Vogues. Zion has been dancing since he was born, back when he was known as Devon Webster. As he puts it, he didn't get into dance, but "dance got into me." His mother, uncle, and brother are fellow dancers. Growing up as a "young diva" in Harlem, he would go to block parties with his mom and brother and start potluck contests to see which kids could dance the best. Zion and his brother would always win, and the three would split the money. When a teacher noticed Zion's talent, he paid for him to go to Ballet Hispanico, a dance company in New York, and the National Dance Institute. The only job Zion has ever had is dancing: He appeared on Nickelodeon's You Do You when he was 9, and his dance crew, Vogue Evolution, was on season four of America's Next Top Dance Crew.
"I understand Vogueing," he said. "A lot of people think it's a dance, but it's a performance. For a performance you don't need to know how to dance. It's celebrating yourself — it's the confident you. Once people get that, you can become a legend in a night." He celebrated his 20th year as a Voguer in 2018 and was dubbed a "ballroom icon" by the New York Times. His next project is opening a fitness studio based around Vogueing. We spoke with him about his son, his superpowers, and Ferris Bueller's Day Off.
Where do you get inspiration for your work?
Life. Life is so inspiring. If you're looking for creativity, you might miss it. It's right here!
If you were an animal, what kind of animal would you be?
A black panther. They're masculine, feminine. They're a protector and somewhat of a vigilante, but so attractive and sexy.
What is something that you're excited about right now?
My son. He just turned 5. His name is King Maverick. I'm very excited about him and getting to relive all of the ages that he's living through.
What were the last songs you listened to?
Tina Turner's "What's Love Got to Do With It?" and "Love Would Never Do Without You" with Janet Jackson.
If you had a superpower, what would it be?
Aside from the ones I have? That leaves me down to nothing.
What is your idea of a perfect day?
In the house, cuddled up with something, watching a movie on Netflix that I want to see, and it's storming or snowing outside.
If you could master any skill that isn't related to your current job, what would it be?
Driving something really fast. I have this fear of driving, I have a fear of speed. But I want to conquer it and [mimics screeching].
What goal are you working toward at the moment?
I want to make my own fitness workshop. When I would go to the gym I would be so bored. I want to make space where you can go and perform, work out, and feel like you're dancing.
What piece of advice has had the biggest impact on you?
My gay father told me, "Whenever you see problems, know there's work to be done."
If you were running for office, what would your campaign song be?
"Oh Yeah" from Ferris Bueller's Day Off . That's my theme song when I walk through the club or go out to eat.
Pony wears a Palomo Spain top and Rick Owens pants courtesy of Matches.