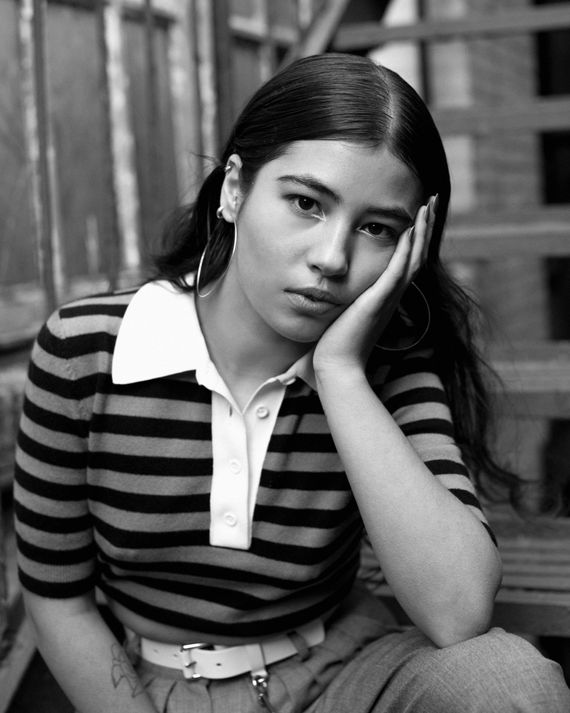 Cameron Grace Carter
Photo: Lia Clay Miller
If Cameron Grace Carter looks familiar to you, that may be because of her famous aunt, Christy Turlington. Like Turlington, Carter is a model. "I've been exposed to the modeling world from a very young age through my aunt," she said. "Ever since I can remember, I would accompany her on modeling jobs and commercials and sit there in awe. I sometimes played her daughter in ads."
They also both share a passion for maternal-health justice. Turlington's charity, Every Mother Counts, works to make safe childbirth accessible to everyone. Carter is still a senior at Brooklyn College, but she studies gender studies and sociology and is particularly interested in supporting people who have been victims of sexual violence. We spoke with her about '90s fashion, AOC, and lions.
Where do you get inspiration for your work?
I'm super inspired by '90s fashion editorials and fashion shows. I follow so many '90s-fashion Instagrams. They're all so beautiful and entrancing.
What was the last thing that you saw that inspired you?
The House Oversight and Reform Committee meeting on family leave moderated by Alexandria Ocasio-Cortez was really impactful. I just took a class on work/family negotiations, which focused heavily on that topic, which in the U.S. is horrendous. Everything AOC does is incredibly inspiring. I look up to her a lot.
What was your first experience as a model?
I think I was 4 years old when I was in my first campaign. It was for Nuala, the brand my aunt had with Puma at the time. We went to Jamaica for the shoot. I also modeled throughout elementary school in San Francisco with my mom for catalogues and things. I never really thought much of it. I was just having fun and got to skip school sometimes.
What kind of animal would you be and why?
A lioness, for sure. I'm a Leo, and I love cats. I have a lioness tattoo as well. I love how protective and prideful they are. They possess such a motherly energy with their cubs. I also love how fierce they are when they hunt. The lioness epitomizes the strength of women and mothers.
What are the last three songs you've listened to?
I'm really into finding a new album and listening to it on repeat. Recently, I've been listening to Duendita's Direct Line to My Creator and King Princess's Cheap Queen. Someone else I've really been into is Desmond Dekker. I always start my morning with his song "Israelites."
What's your idea of a perfect day?
My perfect day would start with someone bringing me a cup of coffee in bed. It's something that never happens, because I feel like a lazy bitch asking someone to bring me coffee in bed, but it would be nice. It would definitely be summer, because that's my favorite season. I would take the ferry to the Rockaways for the day and spend it swimming in the ocean, drinking nutcrackers and eating tacos.
If you could master any skill (that isn't related to your current job), what would it be and why?
Either sewing or yoga. I do both when I have free time, but nowhere near mastering either of those skills yet. Definitely working on it though.
What goal are you working toward at the moment?
I'm working toward building my portfolio of work, in modeling and photography, but what I'm most passionate about is the research I do on sexual abuse.
What piece of advice has had the biggest impact on you and why?
"You are worth more than what you do." There's always such emphasis on what people produce, more so than who they are as an individual. Of course they will always be intertwined, but I always care more about the character of a person than what they do for a living.
Cameron wears a top, pants and belt by Michael Kors Collection, shoes by Simone Rocha, and a shirt by Monse.