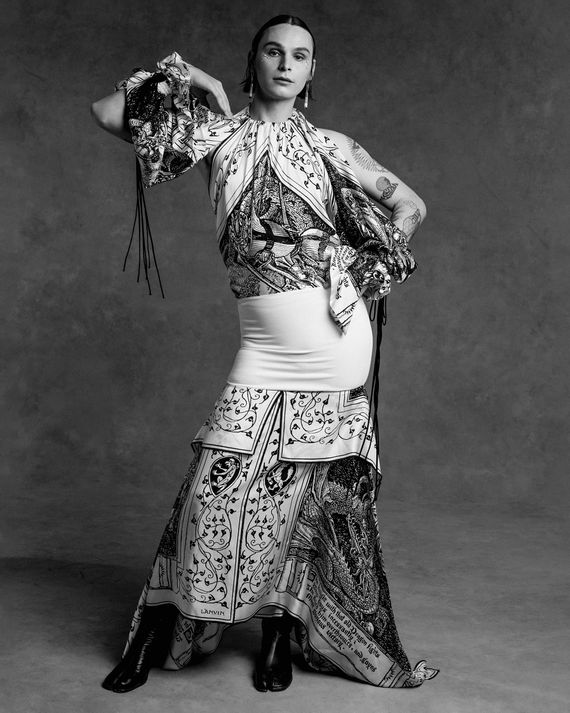 Coco Romack is interested in expressions of identity — both their own and those of other people, including Britney Spears. For i-D, they wrote an essay with the headline, "Why Britney Spears's Head-Shaving Moment Is Deeply Inspiring for Me As a Trans Person." And for Out: "How a Crystal Tiara Helped Me Understand My Gender."
"I was quite shy as a kid, and I didn't feel comfortable speaking up much — I still don't like talking over people — but I always felt confident expressing myself through writing and clothing," they said. Now, Romack is the managing editor at MTV News, but they started out editing a high-school literary magazine, encouraging creativity and adding in "smutty stuff."
The appeal of journalism, Romack says, is "the opportunity to talk to people who are cooler and smarter than me." We spoke with them about what to send writers who miss deadlines, the opera Orlando, and personalized karaoke.
What was your first experience as an editor? 
I was the editor of my high school's literary magazine, The Pirate's Pen. I would accept submissions from anyone who wanted to publish their work — poems, short stories, whatever — and it was cool because it encouraged students to experience creative writing in a fun, no-grades, no-judgment kind of way. I would also publish smutty stuff and fanfic, which didn't always have a place in school but feel no less valid as creative vehicles.
My first full-time job, though, was at a boutique art-book publisher in New York, and I collaborated very closely with artists to produce these massive monographs. It feels significant that I began my career at the intersection of art and literature, because both factor quite heavily into my work as a writer.
What would your Real Housewives tagline be?
"Fuck the police. Listen to My Chemical Romance."
What kind of animal would you be and why?
Sometimes when writers don't turn things in on time, I send them a picture of an angry flamingo.
What are you excited about right now?
I'm excited to watch Justin Vivian Bond perform in the opera Orlando. It's the first opera directed by a woman, Olga Neuwirth, to ever show at the Vienna State Opera. Rei Kawakubo did the costumes, which is amazing — plus, I just really admire Justin Vivian Bond. An icon!
Lately, I've also been doing an eBay deep dive into antique De Carlini blown-glass Christmas ornaments from Italy.
What are the last three songs you've listened to?
"Caravansary" by Kitaro. "I Want Tomorrow" by Enya. "Cheap Queen" by King Princess.
What's your idea of a perfect day?
Hosting my monthly karaoke night, "Coco-oke," in a pair of big-ass earrings.
What goal are you working toward at the moment?
Finishing up laser on my face.
Which three fictional characters do you relate to most?
Bette Porter, Nomi Malone, and Gandalf.