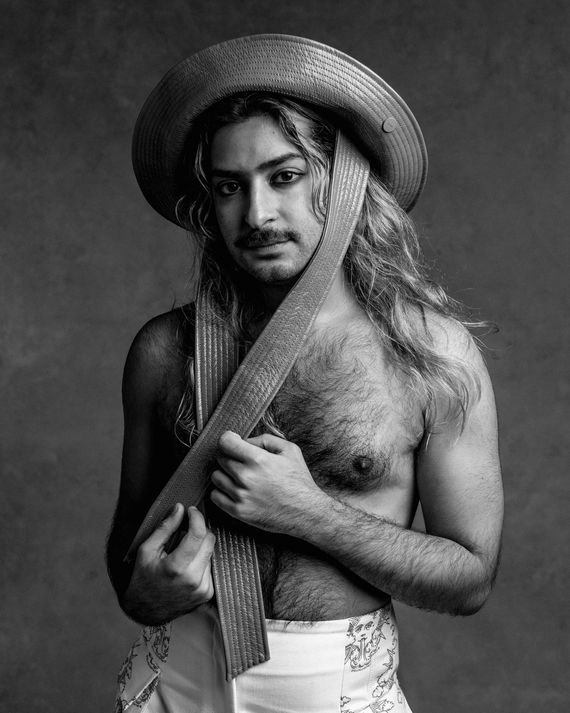 The world that Mohammed Fayaz illustrates seems like a better one — happier and prettier, surely. His subjects, often queer couples or people of color, always look like they're bopping along to the music in their heads. The Queens-born Fayaz has been drawing his whole life, but didn't see it as a viable career until he had an Oprah-based epiphany. "The thing Oprah tells us to look for, the reason we're on this planet, the thing that calls and calls until you have to pick up — illustration and storytelling was my thing, and I'm finally at home," he said.
Fayaz's work has been displayed in the MoMA magazine, the Brooklyn museum, and Link digital billboards in New York. For the past six year's he's also been one of the organizers at Papi Juice, an art collective in Brooklyn that celebrates queer and trans people of color through parties and panels. The playwright Jeremy O. Harris, Pose actress Indya Moore, designer Telfar Clemens, and SNL's Bowen Yang have all hosted Papi Juice parties in the past year. With his long hair and penchant for mini dresses, Fayaz looks the part of a wild, welcoming host of a big, glamorous party. We spoke with him about hickeys, stews, and shape-shifting.
What would your Real Housewives tagline be?
My hair may be long, but this temper is short!
Where do you get inspiration for your work? What was the last thing that you saw that inspired you?
I am super inspired by touch — those long hugs where both folks know not to let go yet, a smooch on your way to work, little spoons being big spoon, an arm around the waist, a kiss on the forehead. The unspoken language and history of two people deciding to touch one another. The last such thing to inspire me was an unexpected hickey (my fault!)
If you were running for office, what would your campaign song be and why?
"Tell Me Something Good," Rufus & Chaka Khan. I'm tryna hear something good, America! What's working, what's broken, how you doin' — tell me something good.
What kind of animal would you be and why?
I think I'd be a puppy. I'm just trying to be playful, mad cute, get into some trouble, eat well, and get lots of cuddles.
What are you excited about right now?
Stew and soup recipes. I've always been intimidated by them, and then I tackled Alison Roman's #TheStew for a dinner party last month and nailed it, and now all I wanna do is stew it up all winter. Who knew collard greens cooked down like that?
What are the last three songs you've listened to?
I live in my very eclectic "Recently Added" list, so my last three have been: "Father Stretch" by Sunday Service Choir, "Come Thru" by Summer Walker & Usher, and "Feelings" by Tinashe.
What superpower would you have and why?
I would love the ability to shape-shift; as a nonbinary queer person, it would be so fun to have 32 inches of bone-straight jet-black hair down my back one day, and then a blonde buzz cut the next day and back again. The looks would be fluid and consistently sickening.
What's your idea of a perfect day?
That's a tough one. I'd have to say April 25. Because it's not too hot and not too cold. All you need is a light jacket.
If you could master any skill that isn't related to your current job, what would it be and why?
I really want to learn how to skateboard. I'm trying to get from point A to point B real smooth and am attached to the idea of my hair in the wind. Wrist and shin guards are in order.
What goal are you working toward at the moment?
Never met a deadline I didn't ask to extend, and that's got to end in 2020 for my peace of mind (and my art directors', too).
What three fictional characters do you relate to most?
Carrie asking Mr. Big, "Why wasn't it me?" Kajol's unibrow in Bollywood classic DDLJ, and Niece-of-Shame Neena from Zadie Smith's White Teeth.
What piece of advice has had the biggest impact on you and why?  
It takes four to six months to get used to any new job. That goes for promotions, new companies, and going freelance, too. You also spend most of those four months thinking you made a mistake! This advice helped me hang on in situations that normally would've sent me flying, and I pay it forward constantly.
Mohammed wears pants by Stella McCartney, boots by Stuart Weitzman and a hat by Ganni.