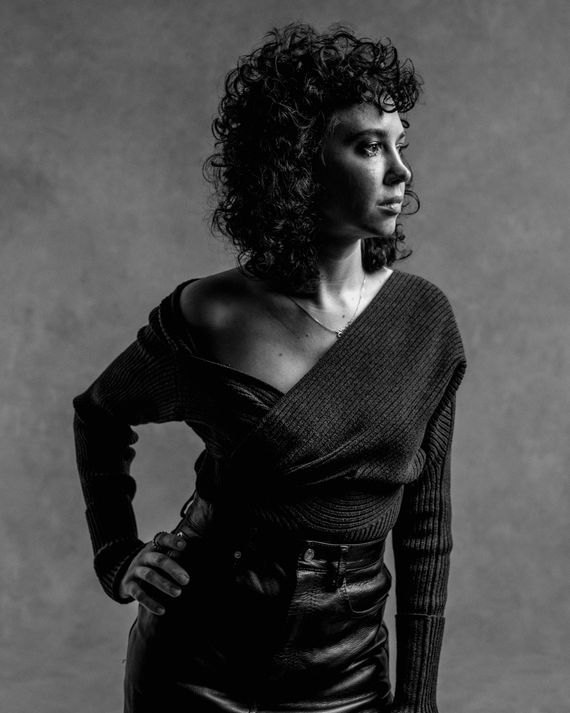 By virtue of putting her in this column, we're calling writer Natasha Stagg cool. And she is, especially to a savvy, Twitter-literate set, but Stagg is more of a chronicler and commenter on what is considered cool writ large. She's also good at dismantling it, or at least making it seem pretty empty. Her second book, which came out late last year, is a series of essays on pop culture, style, and the professional networks around both called Sleeveless: Fashion, Image, Media, New York 2011–2019. Her first novel, Surveys, is about ephemeral internet fame and love. Neither are breathless, and Stagg's style is described by The New Yorker as "notable for a sense of distance and ambivalence." We spoke with her about cats, money, and travel.
Which three creative people have had the most impact on you and why? Chris Kraus, whom I look up to in many ways, and who published my two books; my mother, who was an artist and hired me to help her paint theater sets and houses when I was 10; everyone who ever gave me a job.
Where do you get inspiration for your work? What was the last thing that you saw that inspired you? Traveling forces me to take notes. I just saw Sol LeWitt's old house on the Amalfi Coast and Cy Twombly's old house outside of Rome.
What made you want to be a writer? I can't remember wanting to be anything else.
What would your Real Housewives tagline be? I don't just make the headlines; I also write them.
If you were running for office, what would your campaign song be and why? "Hope is a dangerous thing for a woman like me to have — but I have it," by Lana Del Rey.
What kind of animal would you be and why? A cat is the only animal I've felt jealous of.
What are you excited about right now? My new apartment.
What are the last three songs you've listened to? "Nobody Lives Without Love," by Eddi Reader; "Trouble," by Lindsey Buckingham; and "Cars and Girls," by Prefab Sprout.
What superpower would you have and why? Endless money, since that's the only way to win.
What's your idea of a perfect day? Walking around the East Village with my boyfriend.
If you could master any skill (that isn't related to your current job), what would it be and why? Driving. I'm not very good at it.
What goal are you working toward at the moment? Finishing everything else so I can work on another novel.
Which three fictional characters do you relate to most? The boys in The Virgin Suicides, Parker Posey in Party Girl, and Laura Dern in Wild at Heart.
What piece of advice has had the biggest impact on you and why? My mother told me to travel, or else I'd regret not having traveled.
Natasha wears a Bottega Veneta sweater, an Alexander Wang skirt and Christian Louboutin pumps, and a David Yurman ring.