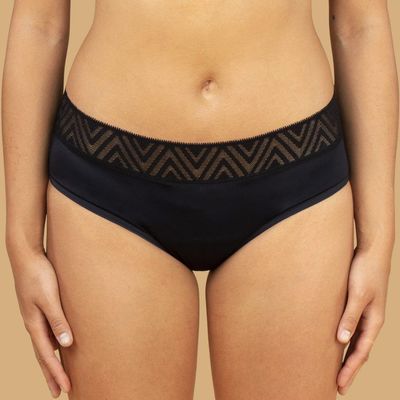 Thinx underwear
Photo: THINX
If you currently own any Thinx underwear, you might want to think twice before wearing them the next time you're on your period: A scientist who recently tested pairs of the menstrual underwear found that they contained high levels of toxic chemicals.
Distressingly, it's not uncommon for feminine products to contain dangerous ingredients, which recently inspired Sierra magazine reporter Jessian Choy to investigate menstrual underwear. To determine whether there are any health risks associated with wearing period underwear, she mailed unused pairs from two popular brands — Thinx and Lunapads — to University of Notre Dame nuclear scientist Graham Peaslee, who researches the presence of chemicals in consumer products. His findings were alarming: Thinx's main line of menstrual underwear contained 3,264 parts per million of per- and polyfluoroalkyl substances (PFAS), an ever-expanding group of manufactured chemicals that are linked to fertility issues and even cancer, and its BTWN-brand briefs had 2,053 parts per million in the crotch. Lunapads, on the other hand, were completely free of PFAS.
Per Choy's assessment, the PFAS levels in Thinx's products indicate that they "were intentionally manufactured with PFAS." While this is alarming, it's not so shocking. Even though exposure to PFAS is considered a public-health risk, according to the National Institute of Environmental Health Sciences, they are "widely used to make various types of everyday products," such as nonstick cooking products, paints, and water-repellent fabrics.
Thinx, however, disputes Peaslee's findings. In a statement to the Cut, Thinx CEO Maria Molland said that the brand's commitment to "customers' health and safety is our No. 1 priority," and included recent third-party lab tests indicating that PFAS were not detected in Thinx's menstrual underwear. Molland also said that if any unregulated PFAS are ever detected in Thinx products, "we will move swiftly to remove them."
But, if you want to err on the side of caution, maybe stick with classic cotton briefs without any bells and whistles in the meantime.